Blog
Sep 19, 2022 / Immunology
Spatial turns over a new leaf: Mapping host and microbiota interactions in plant tissue
The Innovator Blog Series celebrates research conducted by 10x Genomics customers who have demonstrated scientific ingenuity by adapting Chromium Single Cell or Visium Spatial sequencing-based assays. These innovations are distinguished by their originality and potential impact on scientific discovery, including providing access to novel analytes, advancing multiomic analysis techniques, and demonstrating critical applications to human health and disease research. These techniques are customer developed, meaning they are not officially supported by 10x Genomics. 
The microbiome supports human (and plant) health
The human body is composed of much more than human cells. According to 2013 estimates, there may be as many as 100 trillion bacterial cells lining the internal and external surfaces of our bodies (made up of a meager 37 trillion human cells). This "microbiome" is a diverse assembly of microorganisms, including bacteria, fungi, archaea, and viruses, that have colonized us and come to play a role in a number of important processes for human health, from keeping away pathogens to supporting digestion and metabolism (1). 
Much like the human microbiome, the plant microbiome is also an essential, yet not well understood, living member of our leafy counterparts. Microbial communities colonize plant tissue and can confer "fitness advantages to the plant host, including growth promotion, nutrient uptake, stress tolerance and resistance to pathogens" (2). Root health is a clear example of this powerful symbiotic relationship. Paralleling the role of the human gut microbiome in supporting digestion, a number of microorganisms help plant roots to take nutrients and water from soil, as well as perform nitrogen fixation (3).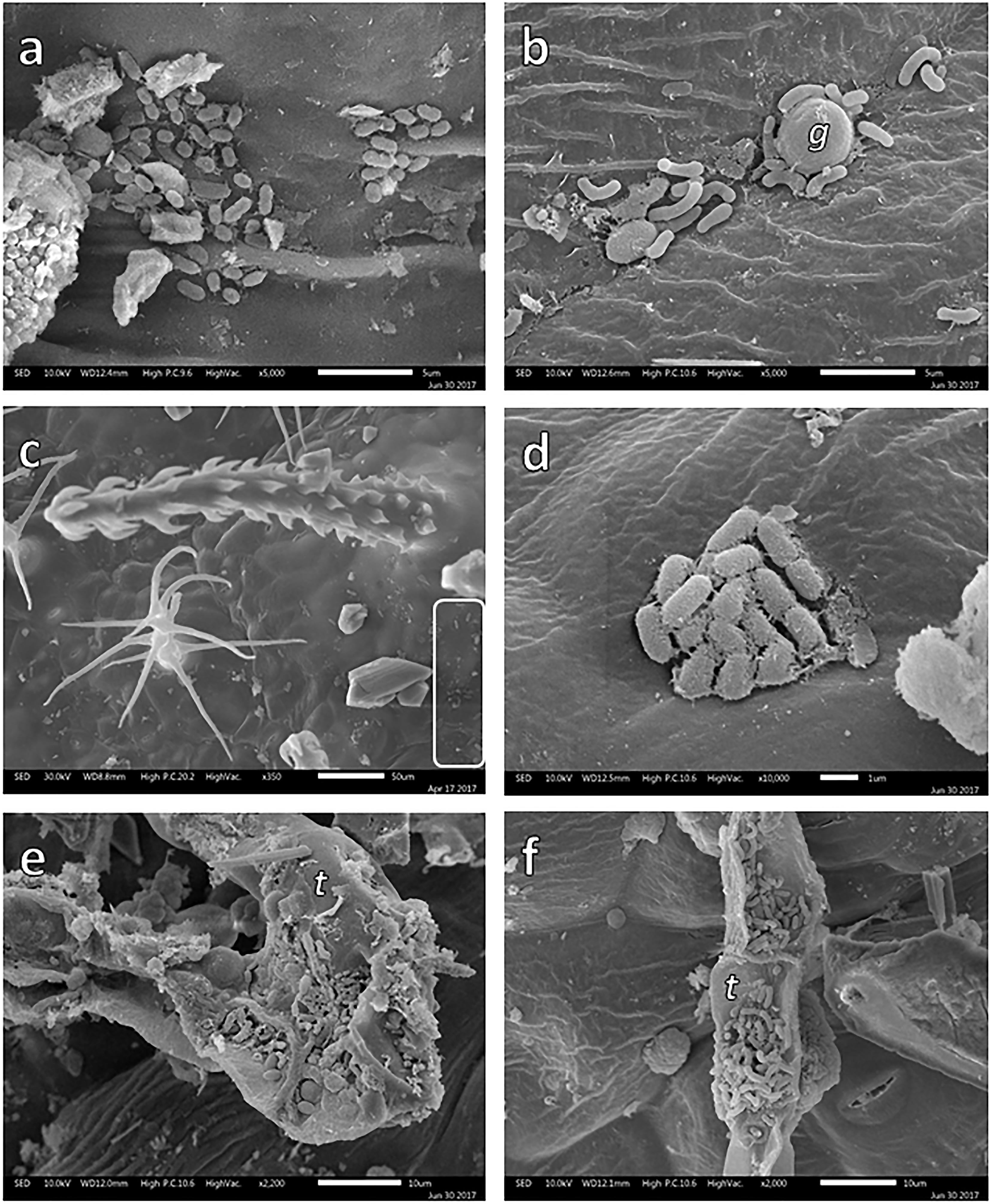 Plant microbiota: A structured community of diverse microorganisms
Fungi and bacteria are the most dominant plant-associated microbiota (2), representing a cohabitation of the prokaryotic and eukaryotic worlds. Though plant microbes live in and interact with each other in such diverse communities (2, 4), importantly, their organization is not random:  
"Plant-associated microbial communities do not represent random assemblages, but instead are structured by general rules for community assembly and show a defined phylogenetic organization. Their assembly is governed by complex interactions among microorganisms, their plant host and the environment, although the underlying mechanisms are not fully understood" (2). 
Saarenpää et al. argue in their recent bioRxiv preprint that the spatial organization of microbial communities influences their function—in other words, how successful microbial communities are at supporting the health of the host plant and ecosystem (4). A high-resolution readout of spatial molecular information is needed to understand the underlying molecular and genetic drivers that govern not only the structural assembly of microbial communities, but also the microbe–microbe and microbe–host interactions that yield fitness advantages to the plant host. 
Multimodal array captures fungi, bacteria, and host transcripts
This need drove a collaboration between a team of scientists led by Sami Saarenpää, PhD, and Or Shalev, PhD, with corresponding author Stefania Giacomello, PhD, from the KTH Royal Institute of Technology, developing a modified Visium Spatial protocol to simultaneously capture fungal, bacterial, and host gene expression signals from a plant tissue section while preserving spatial organization (4). Their modified protocol, called Spatial metaTranscriptomics (SmT), provides a critical application of the foundational spatial transcriptomics technology to studies of microbiota interactions in tissue, whether plant, human, or animal, in that it captures transcriptomic information from multiple coexisting organisms. 
A multimodal array of capture probes was the key to enabling SmT. The team developed a unique concoction of fungal- and bacterial-specific capture probes: 16S rRNA sequences captured bacterial transcripts, while fungal transcripts were captured with 18S rRNA sequences plus an internal transcribed spacer (ITS) (4). Review probe design in the pre-print.
These probes were arrayed on the surface of Visium slides along with typical poly-d(T) probes, which capture plant host mRNA, at a proportion of 45% 16S rRNA probes, 45% 18S rRNA/ITS probes, and 10% poly-d(T) probes. This proportion differs from a typical Visium slide, which is covered by 100% poly-d(T) probes. The researchers then profiled whole sections of Arabidopsis thaliana leaves with the multimodal slides to better understand host gene expression changes in local regions of microbial colonization. 
Microbial hotspots boost plant immunity 
The research team performed spatial analysis on 13 leaf sections, revealing microbial abundance as well as a distinct pattern of organization. They identified 29 bacterial taxa and 23 fungal taxa that had over 1% relative abundance. Analysis revealed microbial populations  across the entire leaf surface: 99.9% of sampling spots contained unique bacterial molecules, and 97.5% of spots contained unique fungal molecules. Despite this broad coverage, populations were concentrated in hotspots, rather than scattered homogeneously. Some hotspots were even shared between bacterial and fungal communities. By retaining this spatial context, the research team concluded that the abundance and spatial organization of shared hotspots was a determining factor for microbe–microbe interactions (4). 
The presence of microbial populations also affected host gene expression. In particular, the team observed enrichment of genes associated with plant immune responses, and a clear spatial correlation between microbial abundance and a subset of immune-related genes, including accelerated cell death 6 (ACD6) and carbonic anhydrase 1 (CA1). ACD6 is a broad-spectrum disease resistance gene, and the product of CA1 binds the immune-related hormone salicylic acid to regulate stomatal opening during pathogen invasion (4). These insights shed light on how local microbial populations impact gene expression changes in the host organism as it mounts a defense in response to threat and disease.
The future of microbiome diversity studies
Spatial metaTranscriptomics holds promise to unravel the complex relationships between microbial populations and their plant hosts, and, in the words of the authors, "extends the reach of multimodal spatial measurement methods by capturing information from coexisting organisms" (4). But it's not just a resource for plant researchers. The method could support similar insights into the spatial organization and functional relationships of coexisting organisms in human and animal tissues and, ultimately, provide a deeper understanding of how microbial communities impact diverse areas of health and disease—from digestion and metabolism, to wound healing, and more. For these reasons, it is a worthy member of the Innovator Series! 
Learn more about this study by reading the pre-print → 
And explore our Visium Spatial platform → 
References: 
FAQ: Human Microbiome. Washington (DC): American Society for Microbiology (2013). doi: 10.1128/AAMCol.1-2013
Trivedi P, et al. Plant–microbiome interactions: from community assembly to plant health. Nat Rev Microbiol 18: 607–621 (2020). doi: 10.1038/s41579-020-0412-1
Saarenpää S, et al. Spatially resolved host-bacteria-fungi interactomes via spatial metatranscriptomics. bioRxiv (2022). doi: https://doi.org/10.1101/2022.07.18.496977