Blog
Apr 16, 2020
Keep your kids engaged and scientifically savvy during shelter-in-place
Looking for something fun and educational to do with your kids while working from home? Explore some of the easy science experiments and fun resources 10x-ers are using to keep their kids engaged and excited about science. This is science at home, the 10x way!
Calling all parents. We're right there with you in the struggle to keep our children entertained during this extended season of shelter-in-place. As scientists, who are constantly testing how to solve our current and most pressing problems, we decided to put our efforts into creating interactive and educational activities.
So, we put our heads together. We surveyed some smart people. We made some coloring sheets. And we discovered that 10x-ers are doing a number of at-home experiments and fun activities to keep their kids engaged with science. Explore our research below, and share a picture with us on Twitter if you try any of these activities out!
Experiment: Undercover School
Hypothesis: Your kids won't even know they're learning while completing these fun, science-based activities.
Method 1: Coloring Sheets
Many of our children love to draw. And human biology is fascinating, complex, and colorful, even at its smallest unit. So why not bring the two concepts together?
In a flash of brilliance, some of the parents on our teams generated a series of creative coloring sheets that capture different features of biology. We first explored the diverse components of single cells in "A cell is like a city".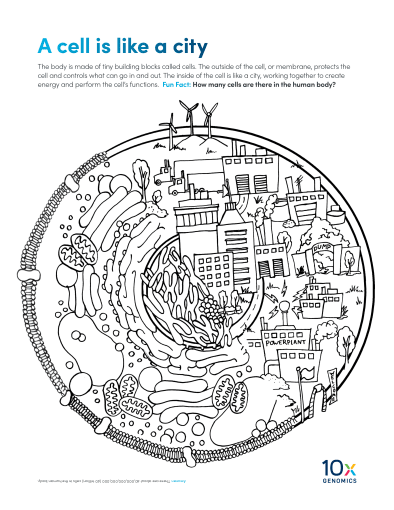 Results: An innovative approach, with a variety of exciting results. Explore the data from our first use-cases below.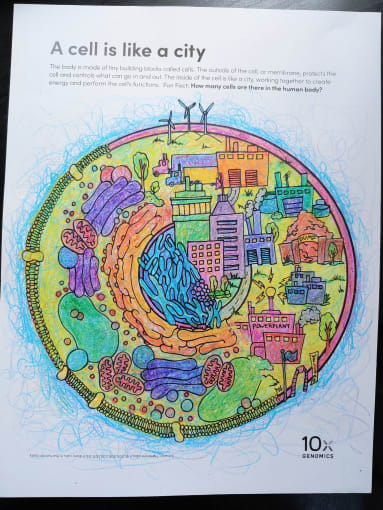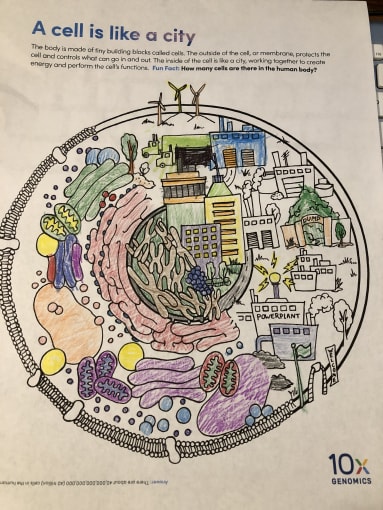 Download more coloring sheets →
Method 2: Science at Home
Some 10x-ers have been conducting easy science experiments with their kids. One popular site is littlebinsforlittlehands.com. From slime, to outdoor excursions, the site has a lot of neat activities that you can try out with your kids. Other resources include the Bring Science Home article series by Science Buddies from Scientific American.
Here are a few interesting options, care of our own Cristy Chevillet:
10x-er Hank Tu offered a few more options for some at-home science:
Results: Some material required, but awesome!
Method 3: Reading Time
Other 10x-ers are finding some cool science books to read with their kids. Alvaro Gonzalez has been reading The Way We Work, by David Macaulay, a favorite with his daughter. Gonzalez remarks, "Today, we were reading the chapter on viruses and how they infect, which I'm sure put a lot of things in perspective for her."
Results: Heartwarming, and essential.
Conclusion: Though further study and input from the reading audience is required to absolutely confirm our hypothesis, preliminary results suggest science is fun for everyone.
Thank you to all the 10x-ers who helped us curate these resources. Remember to share your at-home science experiments with us on Twitter.
Be well, and stay safe.