Blog
May 2, 2018
It's User Group Meeting Season; Catch Up on what Happened in Uppsala, Sweden
Guest Author: Justine Peeters, 10x Genomics
Our 10x User Group Meetings provide forums where researchers can gather with colleagues and 10x representatives to share their ideas and discoveries, and to learn about the latest products and tools from 10x Genomics. The second European User Group meeting for 2018 took place in Uppsala, Sweden at the SciLife Lab. Over two days we saw many great talks from both 10x staff giving software demos and customers sharing their success stories.
10x European Marketing Manager Scott Brouilette opened the meeting welcoming many customers from all over Europe, and Jessica Nordrum; as our host gave a short introduction about the groups and research that happens at the SciLife Lab.  This was followed by our own 10xer Tarjei Mikkelsen (Senior Director of Molecular Biology) who gave a talk on the 10x technology and single cell transcriptomics.
Next up was Lars Forsberg, an associate professor at SciLifeLab, who spoke about what happens when leukocytes loose the Y chromosome (LOY) and the associated increased risk for disease, death and morbidity for men. He demonstrated that the causality behind the associations are beginning to emerge from the 10x single cell gene expression data.
Alvaro Martinez-Barrio from 10x finished off the morning session with a presentation about Linked-Reads and how they can resolve complex structural variants using our Chromium Genome and Exome Solutions. Large scale structural events can also be detected at lower sequencing coverage which is very cost effective for 10x users.

After a coffee break and Cell Ranger and Loupe Cell Browser software demos (given by U.K FAS Nicola Cahill) the afternoon session began with Noomi Gregersen from Fargen in the Faroe islands.  Dr. Gregersen gave a very interesting talk about their efforts to sequence the Faroese population with the Chromium Genome and Exome Solutions. This is a population with very little genetic drift and a great basis to study genetics underlying disease. Learn more about the Fargen Project and how they are incorporating Linked-Reads in our Nature Webcast recording.
The rest of the afternoon consisted of great talks from:
10x's Hannes Arnold, who informed the audience about T cell receptor and B cell Ig typing with the Chromium Single Cell Immune Profiling Solution.
Leif Andersson, a professor at SciLife Lab give a presentation about the characterization of a 4 million year old genomic inversion associated with alternative mating strategies in the ruff (which is a bird).
Jenni lahtela; a postdoctoral researcher at the Institute for Molecular Medicine Finland (FIMM) who spoke about insights into acute myeloid leukaemia at the single cell level.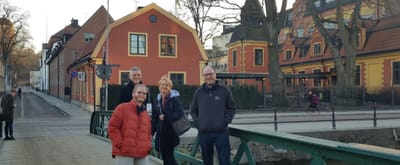 Scott Brouilette rounded up the day before the buses took us all back to the hotel to prepare for our wonderful dinner and drinks at the historic Norrlands Nation in Uppsala, where all our staff and guests were able to sample a lot of fine traditional Swedish food. The cocktails for the evening represented our products (The 'Single Cell' cocktail was by far the most popular).
The second day kicked off with a double talk by 10x's Brian Fritz  who presented our recent product and application updates; including three exciting new research solutions that will be launched this year: Single Cell CNV, Single Cell with Feature Barcoding, and Single Cell ATAC-seq (visit our Product Updates page to learn more and to watch our AGBT 2018 announcement video).
Following Brian was Maija Lepisto from FIMM who shared with us the work they have been doing with Whole Exome Sequencing using 10x Linked-Reads; testing a lot of the technical limits and trying to see if they can increase the amount of data they can get from our technology.  Next, Laurie Scott, FAS Manager for EMEA introduced our increasing support presence in Europe, and then we all broke for coffee (with amazing traditional Swedish pastries) and a Single Cell Immune Profiling Solution software demo given by Lia Burkhart our German/Scandinavian/Benelux FAS.

Following the software demo, Eva Hellqvist Franck from Miltenyi Biotech gave a great talk about the use of the Milyteni/MACS products for sample preparation of solid tumors for use with our single cell solutions. Myltenyi prepared samples yielded good performance before and after clean up steps. They have shown that sample quality is critical to success, and method for prep will greatly influence the success of your results.
Michael Campbell from the software support team at 10x gave his famous rockstar presentation about de novo assembly with Linked-Reads, " A path through the Supernova assembly algorithm".
![10xer Michael Campbell about to begin his "super" Supernova presentation.](https://cdn.10xgenomics.com/image/upload/f_auto,q_auto,w_680,h_510,c_limit/v1574196658/blog/uppsalaugm20185.png "10xer Michael Campbell about to begin his "super" Supernova presentation.")
The final speaker for our second day was Jesper Eisfeldt from the SciLifeLab/Karolinska Institute. He was characterizing chromosomal aberrations using the Chromium Genome Sequencing Solution. Showing the detection of very complex rearrangements from combining data from both Long Ranger and Supernova software. Many larger gaps were filled in from standard short-read whole genome sequencing when using 10x by taking advantage of the Linked-Reads.
Scott Brouilette rounded up a very successful 2 days. We had many happy customers at this UGM, a lot of intrigue about the potentials of our systems in a wide range of research projects, and a lot of our staff had great discussions with both existing and potential customers about the exciting things happening in Europe with 10x.
The next European UGM will be held in September 2018 in Paris, France. View the agenda and register here.
Additional Resources
Learn more about our gene expression and genomics solutions for:

Keep up to date on the latest 10x products including the new single cell products for CNV detection, ATAC-seq and feature barcoding on our 10x Genomics website.