Blog
Jan 25, 2021 / Oncology
Coming together to tackle challenges and improve cancer immunotherapies
In recent years, there have been major advances in the field of cancer immunotherapy; however, progress has been limited by bureaucracy. To address this challenge, 10x Genomics and PICI are partnering to accelerate the pace of research in immuno-oncology by promoting collaborative research using single cell analysis. This partnership attempts to marry the transformative power of 10x Genomics technology with PICI's track record of mobilizing multidisciplinary teams to tackle notoriously challenging questions. Read more about the partnership and some of its inaugural collaborations.
10x Genomics partners with the Parker Institute for Cancer Immunotherapy
Working together is not new to life science researchers. Collaborative efforts and joint initiatives are becoming increasingly important as research accelerates translation of new discoveries to the clinic. Now, with single cell technologies driving biological insights and enabling a deeper understanding of human health and disease, areas at the forefront of medicine are taking notice, including immuno-oncology.
In recent years, there have been major advances in the field of cancer immunotherapy, including FDA-approved therapies for melanoma, lung cancer, kidney cancer, bladder cancer, and lymphoma, to name a few. However, while much progress has been made, innovative approaches are required to deepen efficacy of immunotherapy for more patients and overcome therapeutic resistance. One of the biggest challenges to further progress is that research and clinical trials have been hindered by infrastructure barriers and limited collaboration. To address these challenges, noted entrepreneur Sean Parker founded the Parker Institute for Cancer Immunotherapy (PICI), a philanthropic organization that brings together leading cancer immunotherapy researchers, biotech and pharma partners, and nonprofit organizations to collaborate on bold scientific questions.
Now, 10x Genomics and PICI are partnering to improve the pace of research in immuno-oncology by promoting collaboration using single cell and spatial techniques. Marrying the transformative power of 10x Genomics technology with PICI's track record of mobilizing multidisciplinary teams to tackle notoriously challenging questions, the partnership enables deep scientific collaboration between PICI investigators and 10x Genomics scientists around fundamental questions in immuno-oncology. Inaugural collaborations are underway this year with co-investigators from Stanford University, Memorial Sloan Kettering Cancer Center, and UCLA.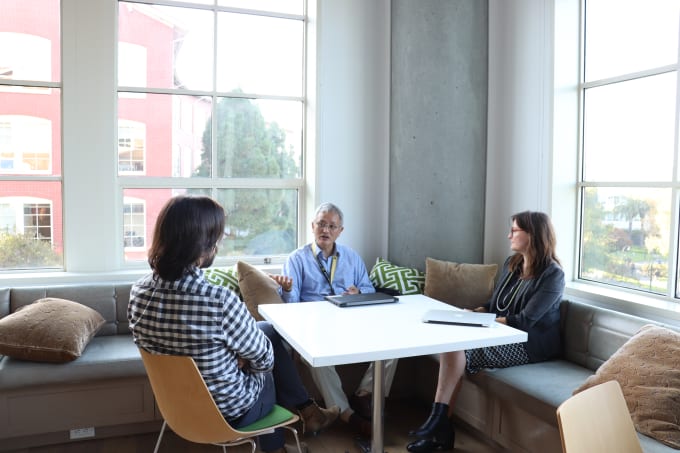 As an immunologist who has spent years working in pharma leading drug development for immuno-oncology and autoimmune diseases, Samantha Bucktrout, PhD, senior director of research at PICI, has been instrumental in supporting and forging the partnership between PICI and 10x Genomics, as well as initiating inaugural collaborations. She understands the value of funding bold ideas as well as enabling science through partnerships.
"Taking the best attributes of academia—which is innovation—and industry—which is execution—and putting them together just really spoke to me," Dr. Bucktrout says. "Sean's vision, which was shared by a few pioneers in the immunotherapy space, is that the biggest, most challenging problems in cancer needed to be tackled in a novel way. This would take things like bold ideas, collaboration, and execution, not bureaucracy."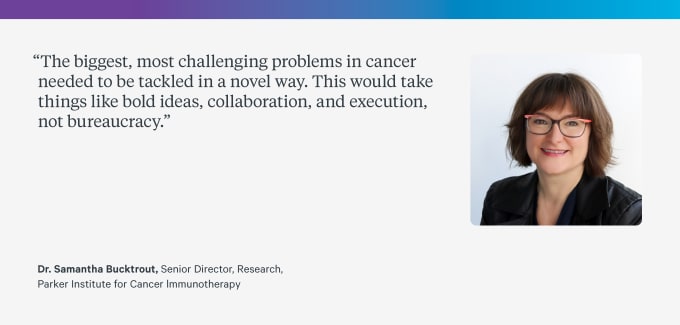 Deeper insights drive progress in cancer immunotherapy
In the last several decades, immunotherapy has become an important part of treating some types of cancer—in fact, numerous immunotherapy drugs have been approved by the FDA, including monoclonal antibodies, checkpoint inhibitors, CAR T-cell therapy, and cancer vaccines. However, immunotherapy works better for some types of cancers, for instance, lung and skin, than others, like pancreatic, triple negative breast cancer, and brain, which are notoriously difficult to treat.
In her role as senior director of research at PICI, Dr. Bucktrout shepherds the collaborative work that is giving PICI its reputation for innovative research and drug discovery. As a scientist who's familiar with the deep complexity of both the immune system and tumor biology, Dr. Bucktrout points to the fact that bulk analyses are not good enough when it comes to understanding the role that the tumor microenvironment plays in treatment response, for instance, or why some patients respond to checkpoint inhibitors while others don't. Here, single cell techniques are poised to make breakthroughs.
"Single cell analysis is really powerful within these very complex biological systems like the immune system and tumor biology. It allows us to pull out small but really important changes," she says, using the case of rare clones that cause recurrence or treatment resistance as an example. "We need single cell technologies to map all of that."
Bold ideas bring new discoveries
Leveraging single cell technologies to understand subtle changes in the immune system in response to therapy has Dr. Bucktrout particularly excited. As an example, Ansuman Satpathy, MD, PhD, a Parker Bridge Fellow and assistant professor at Stanford University School of Medicine, led work published in the journal Nature Medicine in which he made use of 10x Genomics single cell technologies to discover unexpected behavior of T cells in tumors. Using paired single cell RNA and T-cell receptor sequencing on 79,046 cells from basal or squamous cell carcinoma patient tumors before and after anti-PD-1 therapy, Dr. Satpathy and his team found that effective anti-tumor immunity is driven by systemic recruitment of immune cells from outside the tumor microenvironment.
"The findings have large implications for how the immune system interacts with tumors," says Dr. Bucktrout, who was a co-author on the paper. Their discovery also has implications for how checkpoint blockade immunotherapy design can be improved. One of the first collaborations forged under the new PICI/10x partnership will focus on multi-region and longitudinal single cell sequencing of tumors, lymph nodes, and peripheral blood to deepen our understanding of how immune cells are recruited from outside the tumor.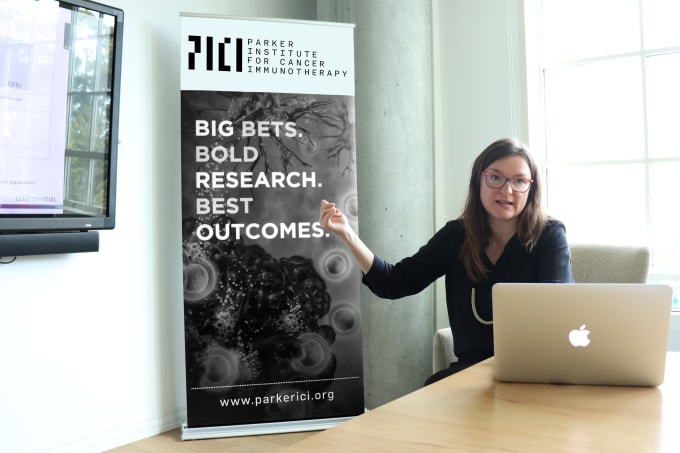 Bench to bedside—faster, using single cell approaches
According to Dr. Bucktrout, these are exciting times for immunology as a whole, not just cancer immunotherapy, simply because single cell approaches are moving the field "from the bench into the clinic at a much more rapid and significant pace than what's happened in immunology before," she says. "I think for biology as a whole—for all of us in medicine and discovery—a current focus is technology."
PICI is looking ahead to being able to more effectively translate research to clinical trials and deepen understanding of the mechanisms of response and resistance—all at single cell resolution. The 10x Genomics/PICI collaboration is helping researchers use single cell technologies in clinical settings in order to discover solutions for challenges in the clinical/translational workflow.
PICI is conducting several clinical trials leveraging deep single cell profiling, including the landmark SINATRA trial that is using CRISPR to engineer cancer-fighting T cells. The phase 1 trial is the first in the US to involve CRISPR/Cas9 gene-editing technology in patients. In February 2020, findings from the study were published in the journal Science, showing that the transplanted cells in three patients were not only well tolerated when they were infused back into patients, but that they were able to target and kill cancer cells months later.
Single cell profiling was at the heart of uncovering how the engineered cells evolve and behave in vivo. "One of the things that we want to work on more with 10x Genomics is the application of single cell analysis to better understand nuances of cellular therapy," Dr. Bucktrout says, as in "tracking and interrogating the cell products before and then over time once they are in the patient. And importantly, any changes to the tumor when the cellular therapy is on board."
Future focus  
The 10x Genomics/PICI partnership comes at a critical time in the history of immunotherapy development. Over the last decade, the field has seen "rapid advancement," Dr. Bucktrout says, in technologies enabling new therapies, from antibody engineering to cell and gene therapy development. Extracting biological insight from the explosion of new therapeutic strategies and clinical trials will be essential. Through the partnership, 10x Genomics scientists will collaborate with PICI investigators to harness the power of single cell and spatial analysis to dissect the complexity of cancer immunity—with the ultimate goal of maximizing benefits for patients in the decades to come.
"We are at this beautiful crossroads for medicine—drugs in development are creative and personalized, we have the technologies to look at things on a single cell level, and the ability to analyze huge data sets," Dr. Bucktrout says. "So, that's the future. It is the most exciting time to be involved, and that immunology is right at the center of it makes me very happy."
This article contains a discussion of research supported by PICI. Views and opinions do not constitute endorsement or promotion of 10x Genomics, Inc. or any of its products.