Blog
Feb 11, 2021 / Neuroscience
Honoring women in science: Dr. Beth Stevens
To celebrate International Day of Women and Girls in Science 2021 on Thursday, February 11, we feature one scientist, Beth Stevens, PhD, who has mentored and inspired many people, from former postdocs to colleagues in academia, industry, and beyond.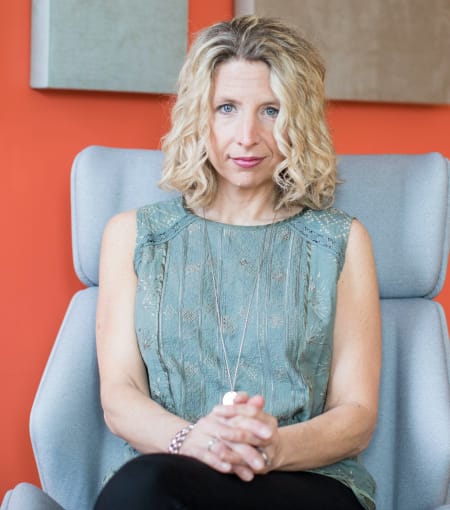 Underlying the success of scientists and engineers at 10x Genomics and beyond is the mentorship of inspiring teachers and scientific role models. For many of us, these key figures are women scientists. There is one woman, in particular, that we at 10x Genomics feel is worthy of mention, and that is Beth Stevens, PhD, a researcher at Harvard University.
To celebrate the International Day of Women and Girls in Science 2021, we acknowledge and thank Dr. Stevens by speaking with a few scientists who have been inspired by her scientific success, mentorship, and vision as a driving force in making the field inclusive for women and other minorities.
Dr. Stevens is a Howard Hughes Medical Institute investigator, an associate professor at Harvard Medical School in the F.M. Kirby Neurobiology Center at Boston Children's Hospital, and a member of the Broad Institute and the Stanley Center for Psychiatric Research. She received her PhD from the University of Maryland, College Park, and finished postdoctoral research at Stanford University with Ben Barres.
As a 2015 MacArthur Fellowship recipient, Dr. Stevens was awarded the so-called "Genius Grant" for her lab's pioneering research on the role that microglia, non-neuronal cells once thought to only function as resident immune cells, play in brain development. Specifically, her lab discovered a role for microglia in pruning (or, phagocytosing) weak synapses via complement proteins during brain development—and that, when this process goes awry, it can lead to or contribute to disease. This work has led her and others to further investigate how impaired microglial function in this pruning pathway may cause other brain diseases, such as schizophrenia, and neurodegenerative conditions, such as Alzheimer's disease or Huntington's disease.
"I've long-admired Beth's work, which includes more than 40 publications that serve to delineate the role of glia in synaptic plasticity in the brain," says Kelly Miller, PhD, Senior Manager, Neuroscience Segment Marketing at 10x Genomics. "Beyond her impressive body of work, I admire the path that Beth carved out for herself in a male-dominated scientific research community. She earned her place through hard work, intelligence, creativity, and assertiveness."
It's not surprising that women who have worked for or with Dr. Stevens find inspiration in her leadership as well.
"I admire several things about Beth from a scientific and personal standpoint," says Nicole Scott-Hewitt, PhD, currently a postdoc in Dr. Stevens' lab. "She has a natural ability to envision and convey the 'big picture' in an innovative, compelling, and approachable way. She encourages open scientific discussions and collaboration, and [she] happily shares credit with colleagues and trainees. She is truly supportive of promoting and maintaining a healthy work-life balance and genuinely cares about the success and well-being of those in her lab."
Another postdoc in her lab, Martine Therrien, PhD, also finds Dr. Stevens admirable. "Beth is a truly inspiring scientist: she has a collaborative and interdisciplinary view on science and it [translates to] most of her work," she says. "Her love and excitement for science is contagious and is greatly appreciated when I encounter challenges in the lab."
In terms of how Dr. Stevens' mentorship has impacted her career, Dr. Scott-Hewitt credits Dr. Stevens for showing her that "women are just as capable of developing inventive and lofty scientific goals and translating those into a robust research program, without having to sacrifice their personal goals or interests."
Dr. Stevens is also known for her vision of inclusivity. One of the missions of her lab is "to mentor the next generation of scientific leaders in an inspiring, collaborative training environment. The Stevens Lab believes that diversity of perspective, background, and ability is key to creativity and innovation in science." To that end, the lab welcomes all people and is committed to fostering an inclusive environment for not only women, but also immigrants, LGBTQI+, people with disabilities, and Black, Indigenous and People of Color (BIPOC).
"What has impacted me the most is how she empowers people around her," Dr. Therrien says. "In an environment that is highly competitive, many trainees, including myself, have imposter syndrome and feel we don't belong. However, Beth includes all of us in discussions with collaborators [and] encourages us to go further in our projects. She is always on our side. With all her encouragement, I truly believe that my postdoctoral project will be successful and will lead me to a bright future."
When asked what one thing they would acknowledge—or thank—Dr. Stevens for, her mentees emphasized how much they respect both her trailblazing research and commitment to empowering women in science.
"I would thank her for providing an environment supportive of intellectual curiosity and freedom, giving others and myself the trust, flexibility, and resources to develop and pursue creative scientific questions," Dr. Scott-Hewitt says.
Adds Dr. Therrien, "She is an amazing mentor, the type of mentor academia needs to increase its diversity and to make everyone feel welcome."