Blog
Nov 23, 2020
Kicking off the Clinical Translational Research Network: research stories from the roundtable
Researchers from around the world came together virtually for our inaugural Clinical Translational Research Network (CTRN) roundtable meeting earlier this month. The CTRN program fosters communication and collaboration among leading researchers who are working to bridge the gap between bench and bedside. Explore their insights into how the integration of single cell and spatial tools can advance clinical translational research for cancer, tissue fibrosis, and more.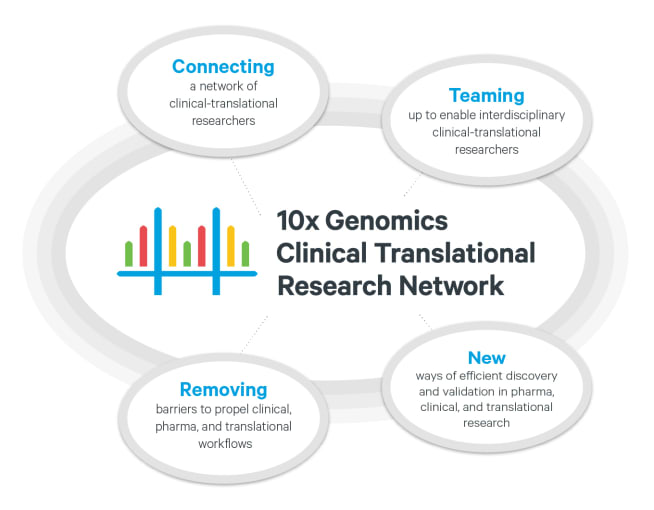 Almost every scientist working in clinical translational research has a story—something that drove them to the field and fuels their passion for it, something that makes it personal—but, at the same time, they share a common goal: to advance human health by transforming research into better clinical outcomes. Earlier this year, we established the Clinical Translational Research Network (CTRN), a community where translational researchers can come together to share their knowledge and experiences, because even if the motivations are personal, the goal is universal. Collaboration is critical for the advancement of clinical translational research. Whether it means discussing new ideas, solving research challenges and roadblocks, exchanging tips and tricks, or sharing discoveries, we want to provide a forum where researchers can communicate and move forward together. Earlier this month, we held our inaugural CTRN roundtable meetings, allowing members to get to know each other and talk (virtually) face-to-face for the first time.
We kicked things off with a greeting from 10x Genomics co-founders Serge Saxonov and Ben Hindson, who explained why the CTRN felt like the right step forward. "In many ways, this felt like a new chapter…. I see this direction as the future of the company…. It's been really intellectually stimulating to build new technologies and drive new science, but I think especially now, and going forward, what gives all of this meaning—to me personally and to most of us, I think—is the impact we can have on human health," explained Saxonov, who then opened up the floor to discussion and questions. Attendees then broke into groups, where they could learn a little more about each other and their areas of interest.
The highlights of the meetings were the presentations, with CTRN members covering everything from sample prep to early results from Visium Spatial Gene Expression experiments. Dr. Luciane Tsukamoto Kagohara from the Sidney Kimmel Comprehensive Cancer Center at Johns Hopkins University discussed how her multidisciplinary team of researchers plans to use Visium Spatial technologies to study pancreatic and liver cancers. These cancers, while common, are often diagnosed in late stages when surgical treatment is no longer feasible, and there are few immunotherapy treatments available. Using samples from immunotherapy clinical trials, Dr. Kagohara and her colleagues, including fellow CTRN members Dr. Elizabeth Jaffee and Dr. Elana Fertig, hope to identify checkpoint inhibitors that could aid in the development of new immunotherapies. Dr. Kagohara expects to get the data from this experiment soon, so we're hoping for an update at the next CTRN meeting! Read more about Dr. Kagohara's research here.
Dr. Prakash Ramachandran from the University of Edinburgh's Centre for Inflammation Research also discussed the search for therapeutic targets. He and his team are studying the fibrotic niche of human liver fibrosis, hoping to identify targetable pathways for anti-fibrotic therapies. They have made progress using Chromium Single Cell Gene Expression to understand how cellular populations within the fibrotic niche change in the context of disease, but he envisions how the combination of spatial gene expression and single cell RNA-sequencing will drive their research forward. His plans? Identifying therapeutic targets within areas of scarring, defining key cell–cell interactions in fibrotic tissue, and improving patient stratification with new tissue biomarkers using Visium Spatial technologies. You can review Dr. Ramachandran's single cell study of liver cirrhosis here.
The integration of single cell and spatial gene expression technologies presents powerful possibilities for many translational research projects. Dr. Alex Swarbrick from the Garvan Institute of Medical Research shared some of the early data his team is uncovering in their efforts to map solid tumor cell architecture using single cell and spatial transcriptomics. This combination of technologies is allowing them to study tumors as cellular "ecosystems," understanding how these collections of cells function as systems. They're working toward the identification of new drug targets in the tumor microenvironment and hoping that their research will help clinicians better stratify patients and personalize treatment. Explore Dr. Swarbrick's findings in this pre-print.
After the presentations, we had an open discussion, during which attendees could ask us and each other questions. We got the chance to hear from attendees about the features they want to see in future product updates and how we can help them achieve their research goals. Another popular topic for discussion was the upcoming Visium Spatial Gene Expression for FFPE product, which allows the layering of gene expression data onto tissue morphology in FFPE tissue samples. Excitement is growing for this upcoming solution, so we recently launched the Visium Spatial Gene Expression for FFPE Scientific Challenge, inviting researchers to share innovative ideas for experiments leveraging FFPE tissues for a chance to win a project performed by 10x Genomics. Learn more about how to enter the challenge.
Thank you to all those who attended the CTRN roundtable and shared their insights and research with us. We can't wait to hear updates from all of our CTRN members at the next meeting as they continue to drive the future of translational research.
Learn more about the CTRN program and stay up to date on future opportunities to join this growing community by visiting the program homepage.