Blog
Apr 8, 2020
What are the latest innovations in the immunologist's research toolkit?
Explore these data visualizations of peer-reviewed immunology publications, and download our Immunology Research Highlights to learn about recent groundbreaking discoveries across diverse immunology applications, including antibody discovery and immunotherapy.
Immunology research is changing and adapting as new tools and innovative methods support and accelerate established workflows. In the effort to delve deeper into the complex molecular and cellular networks and responses of the immune system, and translate discoveries into actionable insights for the treatment of infectious diseases, autoimmune disorders, and cancer, researchers are increasingly turning to multiomic single cell and spatial characterization technology.
How are immunologists leveraging these new tools? What kinds of questions are they asking? What systems and tissues are they exploring? Consider the following graphical visualizations, and download our Immunology Research Highlights, to learn how your colleagues are using 10x Genomics solutions to advance knowledge of human immunity and its function and dysregulation in health and disease.
How are immunologists using multiomic single cell and spatial characterization technology?
To get started, we looked at the yearly distribution of cumulative publications and where they are being published. As of April 6, 2020, there are 202 immunology and immuno-oncology peer-reviewed publications that leverage solutions from 10x Genomics. And this number is increasing annually. Our top scientific journal is Immunity, with Cell coming in at a close second. We're honored to have a growing number of customers publishing research in such high impact journals, and excited at this evidence that multiomic single cell technology can accelerate critical discoveries for immunology and human health.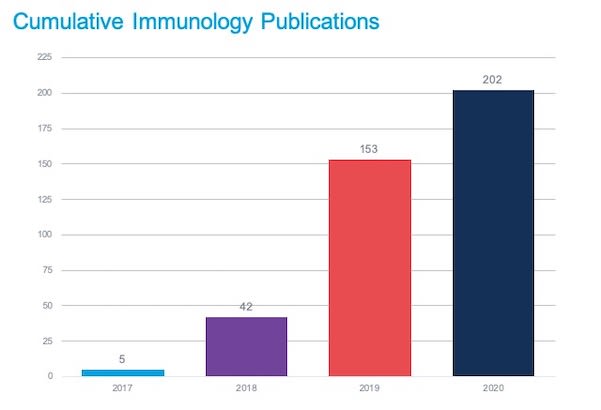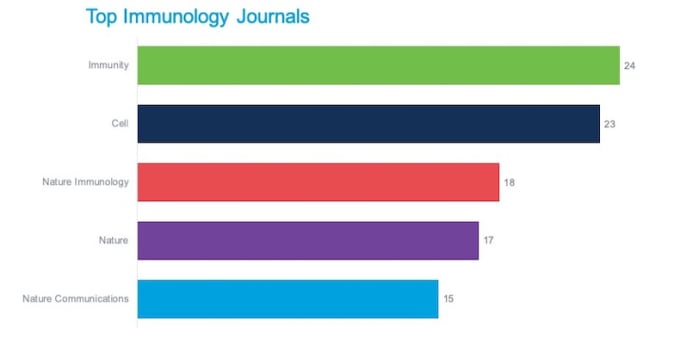 From this collection of 202 publications, we also explored the distribution of tissue types that immunologists are studying. The top 5 tissues are blood, spleen, lung, skin, and bone marrow, comprising a total of 59% of these studies.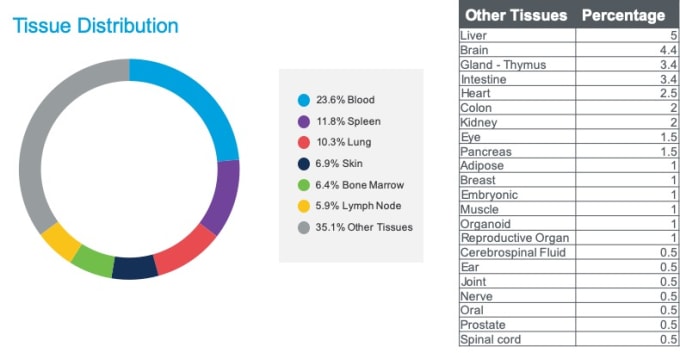 Whether investigating macrophage infiltration in tiny murine synovial joints, or deconstructing the immune landscape of human kidney tissue distressed by lupus nephritis, researchers are leveraging single cell and spatial technology to advance our knowledge of the heterogeneity and developmental progression of immune cells in a broad range of tissues and biological systems. With the ability to comprehensively profile immune cells, they are elucidating the cellular and molecular mechanisms underlying the adaptive and innate immune response, enabling diverse and revolutionary applications. Explore some of these applications below, and learn about the latest discoveries from a selection of our immunology publications.
Single cell and spatial solutions for immunology research
What kind of information about the immune system are researchers gaining from 10x Genomics solutions? With the combined power of single cell and spatial technology, researchers can:
Researchers continue to develop innovative applications of these tools and drive discovery in critical areas of immunology research, including:
Vaccines and Antibody Discovery: See how researchers have developed an unbiased, high-throughput method to screen the antibody repertoire of single B cells for accelerated antibody discovery
Infectious Disease: Learn how scientists discovered epithelial–immune cellular crosstalk that may localize macrophages and neutrophils to regions susceptible to infection
Cellular and Molecular Mechanisms of Immunology: Find out how scientists identified two successive stages of innate lymphoid cell development and the molecular events that drive cell fate commitment
Immuno-oncology: Explore how cancer researchers discovered that expanded CD8+ T cell clones may have been recruited from outside the tumor microenvironment following immune checkpoint blockade therapy
Learn more about these discoveries in our Immunology Research Highlights piece →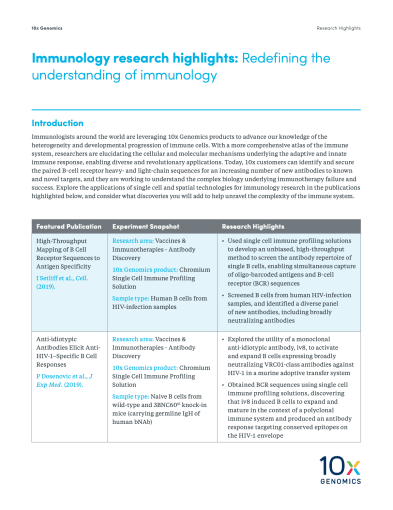 And explore the experimental methods for a number of these studies in our Customer Research Snapshots →