Blog
Oct 12, 2017
#GoExponential with 10x at #ASHG17
**UPDATED: **Nov. 11, 2017
The American Society of Human Genetics annual meeting took place from October 17 to 21 in Orlando, FL and there were exciting workshops, talks, posters and more. The Presidential Symposium on Wednesday, October 18 featured speakers Bill Gates, Co-chair and Trustee of the Bill & Melinda Gates Foundation, and Francis Collins, Director of the U.S. National Institutes of Health, and was a lively conversation about global health and genomics. Read more about the Presidential Symposium in our blog post here.
Here are some sessions that we attended: #10: Disease Gene Discovery Strategies, #45: Single Cell Omics Technologies, and #22: Detection and Interpretation of Structural Variation, chaired by 10x's Deanna Church. Read more about these sessions in our ASHG 2017 Wednesday and Thursday round-up blog posts. You can also check out Deanna's new mendelspod interview and hear her thoughts on the new 1000 Genomes Project Paper, about what's new with Linked-Reads, and how single cell genomics feels today like early days of Human Genome Project.
Here's what we were up to at #ASHG17 and if you didn't make it, check out our live tweets. #GoExponential
For a more complete list of talks and posters download the 10x ASHG 2017 Show Guide.
10X COMMUNITY MIXER
Thanks to all those who braved the rain and joined us for a great evening of drinks, apps and conversation with fellow scientists and 10x-perts.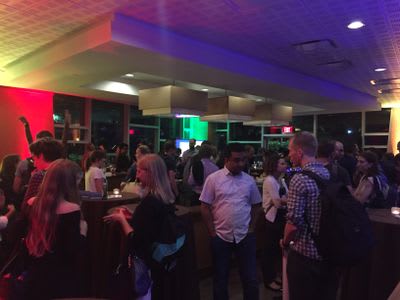 WORKSHOP 1
Advancing Genomic and Single-Cell Sequencing Drop-by-Drop with the 10x Chromium™ System
Our lunchtime workshop featuring 10x's Deanna Church speaking about new products for 5' gene expression and B-cell V(D)J repertoire sequencing. Deanna was followed by  Hakon Hakonarson, Head of Applied Genomics at CHOP and Madhuri Hegde, VP & CSO, Global Labs, from PerkinElmer, speaking about resolving "dark matter" of the exome with Linked-Reads and automated Linked-Read WES and WGS for dried blood spots, respectively.
WORKSHOP 2
Intuitive Tools for Sequence Analysis: Crunching Genomic, Single-Cell and Immune Repertoire Data Using 10x Chromium™ Software
Our early morning breakfast session, started with Alex Wong, VP of Software & Infrastructure at 10x Genomics, highlighting our sample-to-answer solutions, including data analysis and visualization tools.
Following Alex was a number of engaging software demonstrations, including LongRanger and the Loupe Genome Browser for Genome/Exome analysis, Supernova for de novo assembly,  Cell Ranger and the Loupe Cell Browser for single-cell gene expression analysis, and the Loupe V(D)J Browser for single-cell immune repertoire profiling.
TALKS
PgmNr 173: Direct reconstruction of human genomes capturing highly divergent regions including MHC
Speaker: Neil Weisenfeld, 10x Genomics
PgmNr 211: Dissecting the microenvironment of multiple tumor types using 5' and 3' single cell RNA-seq
Speaker: Stephane Boutet, 10x Genomics
POSTERS
PgmNr 2587/W: Linked-read sequencing for molecular cytogenetics
Presenter: Sarah Garcia, 10x Genomics
PgmNr 433/W: Linked-reads for high resolution individual genome analysis via haplotype reconstruction
Presenter: Andrew Xu, 10x Genomics
PgmNr 2588/T: High throughput linked-read sequencing for improved variant detection
**Presenter: **Stephen Williams, 10x Genomics
Also, don't forget about our collaboration with PerkinElmer to create an automated workflow for dried blood spots and saliva for Linked-Read sequencing.  Learn more in our press release and in our Thursday wrap-up blog post, featuring the PerkinElmer workshop "Linked-Reads: Enabling Robust Genome Analysis from Dried Blood Spots".
Thanks for a great ASHG 2017 and we look forward to seeing you next year at ASHG 2018 in San Diego!