Blog
Aug 31, 2020
Drive the next immunology breakthroughs with high-sensitivity multiomic immune cell profiling
Go beyond traditional immunophenotyping. With Single Cell Immune Profiling v2, you can capture multiple parameters of immune cell biology at single cell resolution, now with greater gene sensitivity, enhanced immune receptor detection rates, and streamlined software solutions. Ask the questions you most want to ask, and open up previously inaccessible insights into immune complexity.
Beyond immunophenotyping: why single cell immune profiling?
The immune system has extraordinary responsibilities to protect the body from pathogens and diseased cells. To perform these functions, immune cells have unique surface proteins, including T-cell receptors (TCR), B-cell receptors (BCR), and CD molecules, that distinguish them from other cells and drive their key functions. While traditional cytometry techniques are effective to identify and pool immune cells according to known surface markers, a rigorous understanding of immune cell functionality requires further analytical attention, including study of the transcriptome, novel surface proteins and receptors, and antigen specificity.
Researchers have already proven the value of this multidimensional approach to immunology. Using Chromium Single Cell Immune Profiling, an international team of researchers from Israel, China, and France, led by Pierre Bost of the Weizmann Institute of Science, uncovered the relationship between COVID-19 severity and immune infiltration in the lungs. Yunlong Cao and colleagues from Peking University and Beijing Youan Hospital leveraged single cell immune profiling to identify 14 potent neutralizing antibodies against COVID-19. Another team of scientists from the Dermatology Branch of the National Institute of Arthritis and Musculoskeletal and Skin Diseases (NIAMS), NIH, used the same immune profiling technology on a patient biopsy to expose the underlying mechanism of disease in a dangerous, drug-induced inflammatory condition that was unresponsive to treatment.

With the ability to access multiomic profiles of individual immune cells, at the scale of tens to hundreds of thousands of cells, immunologists are not only learning how the immune system works, but they're also gaining actionable insights into human disease, and how the immune system can be leveraged to clear an infection or target cancer. Explore more discoveries enabled by single cell immune profiling technology on our publications page.
Bringing enhanced sensitivity to single cell immune profiling
Now, scientists can push the boundaries of their research even further. With updated biochemistry, Chromium Single Cell Immune Profiling offers enhanced immune receptor detection rates and up to 60% higher gene sensitivity. This means researchers can access more genes and full-length receptor sequences per sample, giving them a richer understanding of sample complexity. Moreover, sensitivity improvements come with added sequencing benefits. Researchers can now sequence at a lower depth while maintaining quality of insights, thus reducing sequencing costs and giving them the flexibility to scale their studies according to their research questions.
Explore the following data to see how Single Cell Immune Profiling v1.1 compares to v2 biochemistry, and find more information in this Technical Note.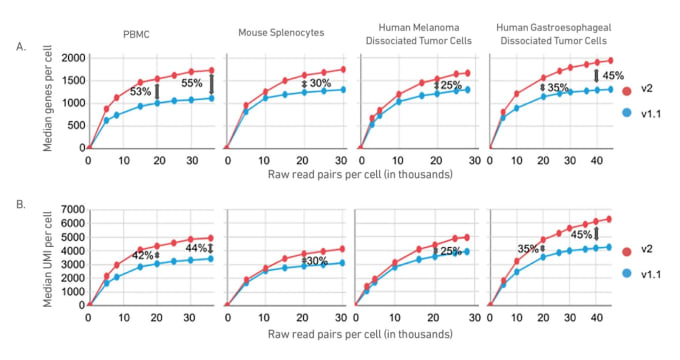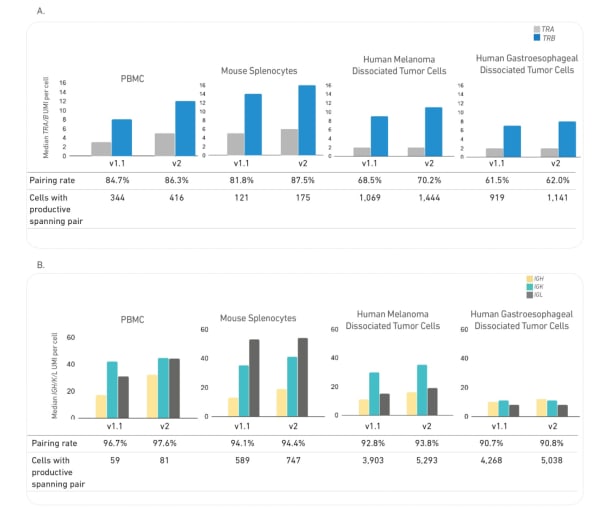 With a greater diversity of genes, immune receptors, and cells to study, immunologists also need superior sequencing and data analysis tools. Single Cell Immune Profiling v2 is now compatible with industry-standard dual index sequencing, and is accompanied by key improvements to our software analysis pipeline, Cell Ranger 4.0. Also, immunologists can explore more complex questions using enclone beta, a command line tool that enables flexible analysis of B-cell and T-cell clonotype data generated from Cell Ranger.
Is Single Cell Immune Profiling right for me?
Immunology is complex and there is so much still to learn. Whether you're interested in uncovering rare or previously undetected immune cell types and states, characterizing clonal expansion in the tumor microenvironment or inflamed tissue, or identifying novel antibodies against pathogens, you need a solution that can match the complexity of your research questions.
Chromium Single Cell Immune Profiling was developed with the intention of providing the deep insights into immune cell biology that you need, at the scale you need, in an increasingly affordable manner. Do you want to conduct a large-scale single cell immune study that examines multiple samples or time points? Are you having trouble detecting T-cell receptor pairs in challenging samples, or in any of your samples, for that matter? Are you working with a precious tumor biopsy or fine needle aspirate, from which you want to make every cell count? With our improved v2 biochemistry, Chromium Single Cell Immune Profiling gives you the highest sensitivity to capture the most information from your samples, and fundamentally redefine our understanding of the immune system.
Get started today with Single Cell Immune Profiling v2 by exploring resources on our product page.