Blog
Feb 16, 2021
Visium Spatial Gene Expression for FFPE Challenge: And the winner is…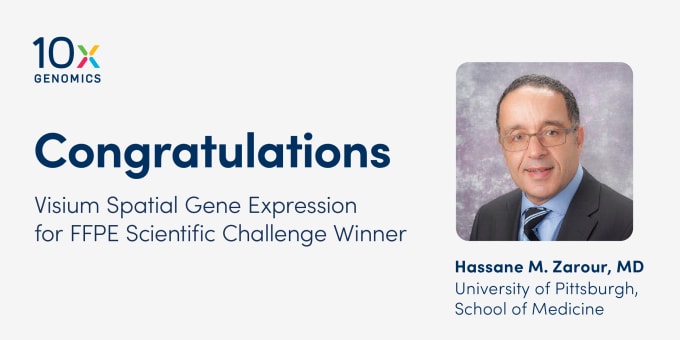 Late last year, we launched the Visium Spatial Gene Expression for FFPE Challenge, asking researchers to submit their most innovative ideas for research using our spatial capture technology to analyze FFPE samples. We heard from leading scientists across the globe with exciting concepts for new research projects. Thank you to everyone who sent in proposals—it was challenging to pick just one! However, one project left us feeling particularly inspired.
We are thrilled to introduce Dr. Hassane M. Zarour, the winner of our Visium Spatial Gene Expression for FFPE Challenge. Please join us in congratulating Dr. Zarour! Professor of Medicine in the Department of Immunology and Dermatology and co-leader of both the Melanoma Program and the Cancer Immunology and Immunotherapy Program at the University of Pittsburgh Hillman Cancer Center, Dr. Zarour specializes in cancer immunology research.
Working to develop novel cancer immunotherapies, particularly for melanoma, Dr. Zarour will use his end-to-end Visium Spatial Gene Expression for FFPE tissue experiment to integrate spatial information into his exploration of the cellular and transcriptomic changes occurring in the tumor microenvironment (TME) in response to novel cancer immunotherapies. Though it's the most common method to preserve tissue, especially in clinical settings, FFPE processing can significantly damage RNA molecules, complicating transcriptomic-level investigations. Visium Spatial Gene Expression for FFPE was formulated to overcome the challenges presented by FFPE-processed tissue and allow a whole transcriptome approach to layering gene expression data onto tissue morphology gathered from histological staining.
Specifically, Dr. Zarour is interested in investigating melanoma tumors' response to a combination of intratumorally administered CpG oligonucleotide and anti-PD-1 antibody. The addition of spatially resolved gene expression will bring Dr. Zarour's deeper insights into the mechanisms of response and resistance to this combinatorial therapy approach.
Once again, congratulations to Dr. Zarour! We are proud to support your research project, and we look forward to seeing how it will impact future studies.
To learn more about Dr. Zarour's research, visit his website →