Blog
Oct 4, 2016
10x Twitter Week in Review: Sept. 26
What was happening in the 10x Twitter world last week?  See the highlights below.
Check out our most popular blog post "A basic introduction to linked reads" by @deannachurch
Join us for our #ASHG16 events:

Workshop "Transforming Genomic Analysis with the 10x Chromium System" - Register here
10x Community Mixer to celebrate the public community launch - Register here

10x Genomics technology gets "buzzed"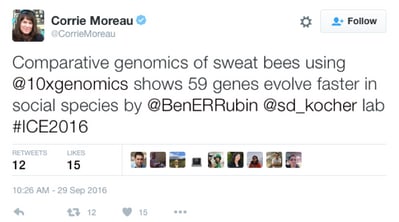 Free Nature Webcast on 10/4 with Dr Rahul Satija from the NY Genome Center, "Defining the immune system at single cell resolution with Seurat" - Register here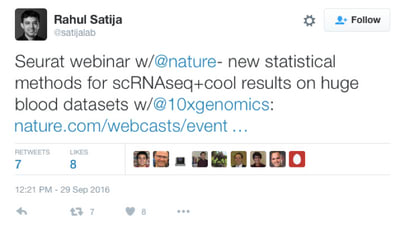 New 10x publication using #LinkedReads ""Assembly of the Complete Sitka Spruce Chloroplast Genome Using 10X Genomics' GemCode Sequencing Data"-  See it here
Follow us on Twitter @10xgenomics