Blog
Jul 14, 2017
Get started with the Chromium™ Single Cell 3' Solution
We're excited to launch our new Chromium™ Single Cell 3' training video series. The videos provide a detailed overview of single cell digital gene expression from sample preparation to data analysis for the Chromium Single Cell 3' Solution. Broken up into chapters for ease of use, this new series provides a great way to introduce yourself to the GemCode™ technology or get a quick refresher on the Single Cell 3' workflow.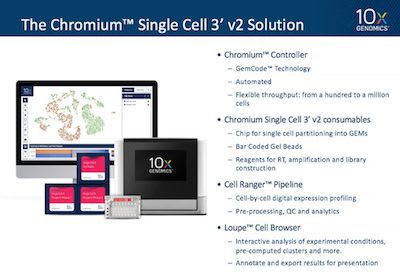 In the training series, you'll learn about:
GemCode technology and the Single Cell 3' Solution
The biochemistry behind the Single Cell 3' v2 assay
Sample prep and library prep workflow
Cell Ranger™ software for data analysis
Loupe™ Cell Browser for data visualization
The 10x Support site has even more great resources to help you get started with single cell gene expression analysis, from demonstrated protocols and technical notes to datasets and analysis tools.
See how scientists are using the Chromium Single Cell 3' Solution** in their research:**