Blog
Dec 1, 2022 / Neuroscience
Where neuroscientists go to connect: Recapping Society for Neuroscience 2022
"Neurons that fire together, wire together." – Donald Hebb, 1949
Coined over 70 years ago, this simple phrase underscores a truth of the nervous system: connections are fundamental. For over half a century now, neuroscientists from around the world have abided by this maxim and attended Society for Neuroscience to connect and share their latest findings.
This year in San Diego, California, over 30,000 people came to Neuroscience 2022 to share how their latest findings, tools, and techniques are advancing the field of neuroscience. The research they presented touched on every area of neuroscience—from cells to synapses, disease to development—and it would be impossible to cover it all here. So we'd like to recap some of the highlights below, showcasing how single cell and spatial technologies are leading the way.
Award-winning research: Mapping the dentate gyrus through time and space
To highlight and honor new and innovative neuroscience findings, we encouraged attendees using spatial and/or single cell approaches to enter our SfN 2022 poster contest. We're pleased to announce that the grand prize winner of a $1,000 gift card was Anthony Ramnauth from the Lieber Institute for Brain Development!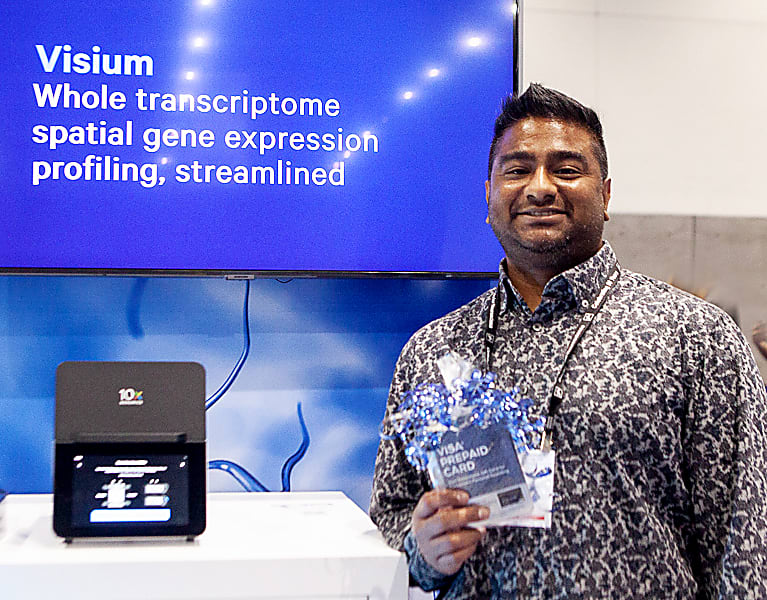 We had the chance to speak with Anthony at SfN, and one of his first comments was about why his work matters to him: "The thing that I like the most about my work is that I'm working directly with human tissue. So it might be a bit egocentric of me, but one of the things that really interested me about neuroscience is finding out about myself: how do I tick, what is going on in my brain?"
He strove to answer these questions in his poster, "Single-molecule cartography of the human postnatal dentate gyrus throughout lifespan." In his research, Anthony used spatial transcriptomics to map what's really going on in the human hippocampus, a region critical for learning and memory, throughout our lives. He zeroed in on the dentate gyrus, a hippocampal subregion using Visium Spatial Gene Expression.
"One of the benefits of why I decided to use Visium is because I could take the brain block, get cryosections out of it, and sort of 'carve up' sections and do microdissections. That would be incredibly time consuming and more expensive to do on a wet bench," Anthony said. Using this technology he was able to identify specific markers of the dentate gyrus, characterize transcriptional profiles specific to age, and reveal spatially distinct astrocytic subtypes in his work.
When asked what was next, he commented, "I was doing cell type deconvolution of Visium spots, so I'm working on expanding my reference dataset and single nuclei datasets to include fetal tissue; as well as datasets that have infant and teenage groups because I have those samples in my Visium datasets. So with that I'll be able to, hopefully, capture more developmental stages."
We'd like to thank Anthony for his time and congratulate the three runners-up who each won a $200 gift card:
Shuo Chen, Ohio State University: "Spatially resolved transcriptomics reveals gene signatures underlying the vulnerability of human middle temporal gyrus in Alzheimer's disease"
James Howe, University of California, San Diego: "A bivalent, topographically distributed, and molecularly defined cortical amygdala circuit induces divergent valence behaviors"
Marito Hayashi, Harvard University: "Enteroendocrine cell lineages that differentially control feeding and gut motility"

Showcasing revolutionary research tools: Multiomics and multidimensional analyses
New research often requires not just novel tools, but  the combination of existing approaches. We were beyond excited to showcase not just our Visium CytAssist instrument, but also our brand new Xenium In Situ Analyzer at booth #105!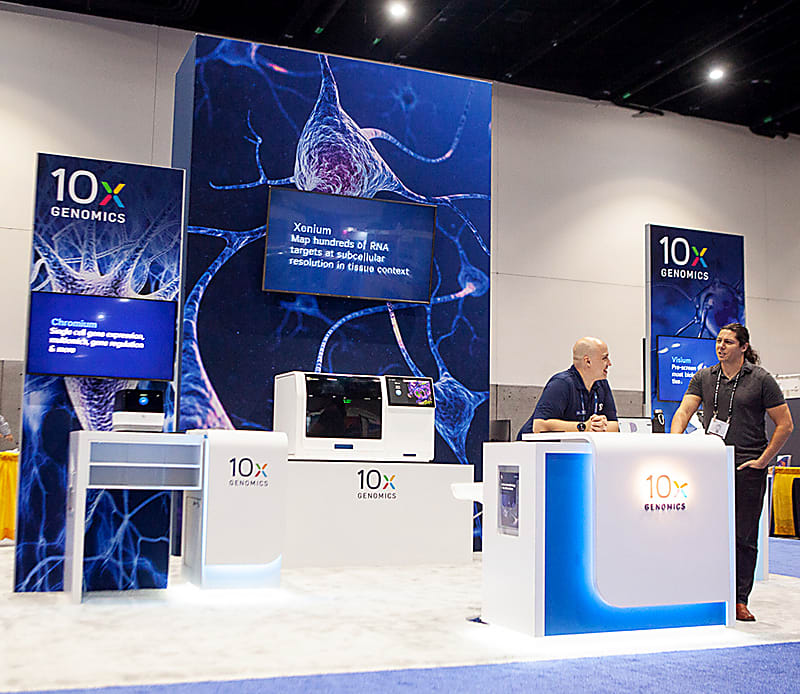 Our scientists also presented three posters on our latest research tools enabling multiomic and multidimensional analyses for single cell, spatial, and in situ approaches. In the first of these, "Nuclei Isolation from OCT embedded human brain tissue enables multiomic readouts," our scientists demonstrated how single nuclei extracted with the new Chromium Nuclei Isolation Kit allowed analysis of both gene expression and chromatin accessibility from the same nucleus. Given the consistency of these findings between tissue types, this data suggests single nuclei data generated with this kit can be paired with Visium spatial gene expression data (see below) for more precise spatial transcriptomics via enhanced spot deconvolution.
A common challenge when analyzing FFPE tissue is knowing which section(s) you want to analyze. The second poster, "Spatial transcriptomic profiling of brain FFPE tissues sectioned on glass histology slides by automated transfer of analytes," highlighted how our Visium CytAssist instrument not only minimizes this challenge, but enables the use of archival and presectioned FFPE slides with our Visium spatial transcriptomics workflow. Using a CytAssist-enabled workflow, our researchers were able to analyze archival map markers of neural cell types to distinct morphological features in FFPE tissue initially collected on standard glass slides. From this, they identified distinct cell types throughout tissue sections, mapped known cancer markers to glioblastomas, and detected known Alzheimer's disease markers in patients suffering from this disease.
Our final poster, "Cell type identification in brain tissue using high throughput in situ gene expression profiling," unveiled the capabilities of our Xenium platform in brain tissue. The poster showcased how Xenium, which enables the analysis of up to 400 genes per section with subcellular resolution, let our researchers transcriptionally define not just specific neuroanatomical (sub)regions in mouse tissue, but individual cortical layers and specific cell types. Notably, using Xenium to analyze non-neuronal cell types allowed us to reveal tissue structures.
Until we meet again: Keep the connection going!
Neuroscience, both the discipline and the conference, can feel like a bit of a whirlwind due to the mind-boggling amount of research being done, as well as the awe-inspiring number of people who come together to make the field better every year. We feel privileged to be a part of it. We hope to connect with you again next year at SfN 2023 in Washington, DC—we can't wait to see what you're up to in the meantime!
Looking to push your research even further? Check out our Neuroscience Success Kit to see how easily you can integrate these technologies into your work and succeed at every step of your research journey!