Blog
Feb 24, 2017
10x Genomics at AGBT 2017
The annual Advances in Genome Biology and Technology (AGBT) General Meeting took place from February 14th – 16th in sunny Hollywood, FL and was filled with exciting scientific presentations and discussions.
Getting the party started
Monday, February 13th was a big day for us in Hollywood, FL, even before the AGBT conference started! We held a pre-conference workshop that was jam-packed with info and discussions about what's happening at 10x, our Linked-Read technology and possible applications. Thanks to everyone who came out and made our workshop a success! For those of you who couldn't be there, we rounded up the highlights.
The morning sessions, introduced by CEO Serge Saxonov, featured some exciting Linked-Read applications.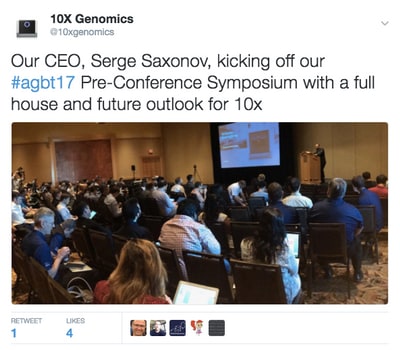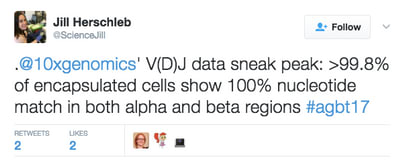 Next, 10x's Tarjei Mikkelsen gave an overview of Chromium technology and its applications including genome, de novo assembly and single cell analysis. He even previewed our V(D)J product slated for launch later this year.
Stacey Gabriel of The Broad Institute gave an interesting talk about the genomic applications of Linked-Reads.

It was time for some de novo assembly love with Jiannis Ragoussis from McGill University and the olive fly genome.
Next up was Winnie Hui of Chinese University of Hong Kong, lead author on the recent publication "Universal Haplotype-Based Noninvasive Prenatal Testing for Single Gene Diseases". Read more about this publication in our blog post Linked-Reads used in new NIPT approach.
Closing the morning session, David Craig from USC spoke about addressing difficult biology with exome sequencing using Linked-Reads.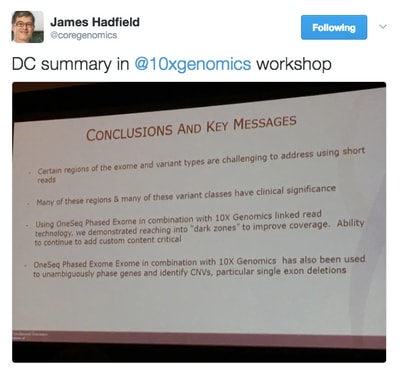 For us, one of the most exciting parts of the day was lunchtime, and it wasn't because of the food! At lunch, we got to connect with some of our attendees in in round-table discussions.

After some enlightening conversations, it was time for the afternoon sessions, which were all about single cell analysis!  First up was Kelley Yan from Columbia University speaking about her intestinal stem cell work with the Kuo lab at Stanford.
10x's Alex Wong followed up with an impressive introduction to the latest software, Loupe™ Cell Browser, performing a live demo with our 1.3 M mouse neuron cell dataset!  Read more about this "visionary" single cell data analysis tool in our blog post, Fast and scalable single cell analysis with the new Loupe™ Cell Browser.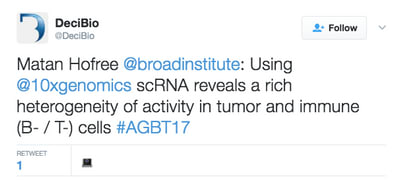 We couldn't get enough single cell analysis with Matan Hofree from The Broad Institute speaking about scRNA-seq on solid tumor specimens.
The symposium closed with Britt Adamson from UCSF (via Google Hangouts- I have to note!) speaking about Perturb-seq, a new approach to high-throughput functional genomics enabled by single cell RNA-seq screening for CRISPR perturbations. Find out more about the Perturb-seq publications in our blog post Perturb-seq: High throughput functional genomics at single cell resolution.
Keeping the party going
The rest of the AGBT general meeting was just as exciting and filled with great science (and parties).  Check out some snapshots of talks using 10x technology.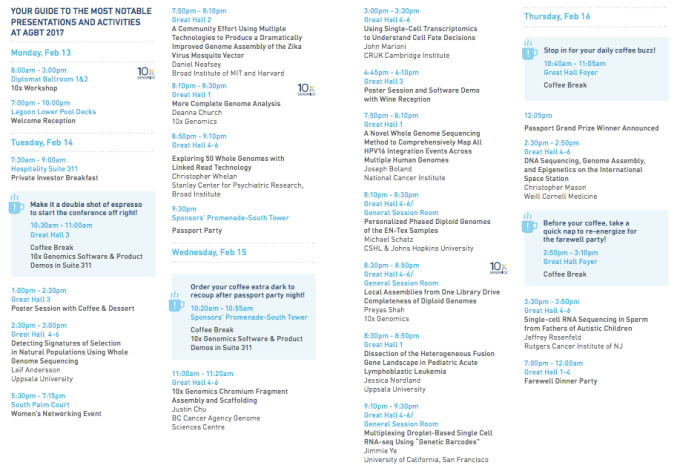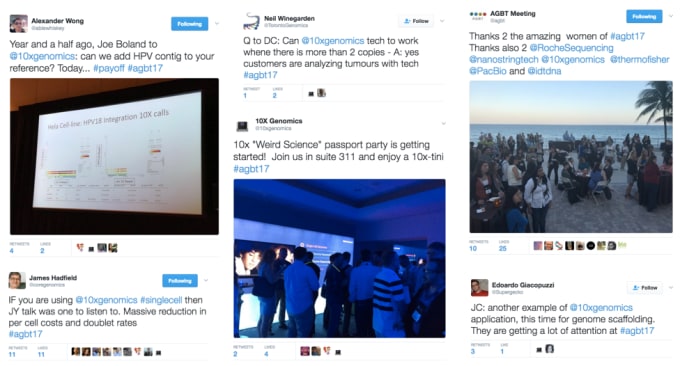 Thanks for a great #AGBT17! We look forward to seeing everyone in Marco Island next year.