Blog
May 15, 2018
Highlights from our first Houston User Group Meeting
Our 4th North American User Group Meeting of the year took place on May 2nd in Houston, giving us a chance to check in with our Southwestern community of customers and researchers. It was the perfect opportunity to give our attendees some updates on what we've been working on in house, but, of course, the best part of any UGM is meeting with customers and researchers in person.
10x speakers Brian Fritz and Chris Black gave a rundown of what's going on here at 10x, sharing our newest applications and some of our software features. But the real highlights of the day came from the four customer presentations. Three of these presentations focused on studies using the Chromium Single Cell Gene Expression Solution.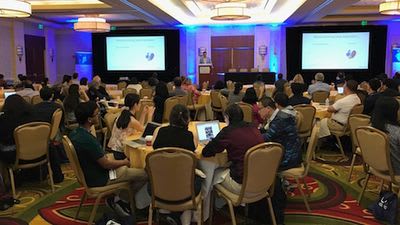 First up, Dr. Fatma Ayhan, Post Doctoral Fellow in Dr. Gena Konopka's Lab at University of Texas, Southwestern, presented 'Single-cell RNA-seq analysis of human brain tissue: A comparison of nuclear and whole-cell transcriptomes.' Demonstrating the importance of using intronic sequences when clustering and analyzing single nuclei data, she found that ~70% of the reads in these datasets mapped to intronic sequence. When clustering was performed using only reads that map to exons, a majority of cells were not identified, while using intron+exon sequence resolved all cell types.
Next, Gervaise Henry, a Research Technician in Dr. Douglas Strand's Lab at the University of Texas, Southwestern presented 'Determining Cellular Heterogeneity in Human Prostate using the Chromium™ Single Cell 3' Solution.'  When his flow cytometry experiments kept showing a large portion of unclassified epithelia cells that did not express basal or lamina markers, Gervaise turned to single cell RNA seq to study these 'other epithelial' cells. Although he is still working to optimize his tissue dissociation protocols, initial experiments show that the 'other epithelial' cells form two distinct clusters and that the rare neuroendocrine cells, rather than clustering as a unique cell type, are found scattered throughout all of the epithelial clusters.
After lunch, Dr. James Martin, Director of the Cardiomyocyte Renewal Laboratory at the Texas Heart Institute presented 'Clinical and basic research applications of the 10X genomics platform.' One of the research teams in his group is using the Chromium single cell gene expression solution to look for biomarkers in congenital heart disease (CHD). Using PBMCs taken from patients at the time of corrective surgery, and matched samples from healthy volunteers, they identified differences in the T cell and monocyte populations. Differences were apparent between the CHD and control samples and also between different types of heart defects.
In the final presentation of the day, Dr. Nicholas Navin, Associate Professor in the Department of Genetics and Bioinformatics and Sequencing Core Co-Director at the MD Anderson Cancer Center, presented 'Breast Tumor Evolution at Single Cell Resolution.' Turning our attention from transcriptomes to genomes, Dr. Navin described single cell genome sequencing (SCS) methods developed in his lab and some of their published work using these methods to characterize clonal evolution in breast cancers. As part of a Human Cell Atlas collaboration, they are presently using these methods to profile healthy human breast tissue. The SCS data will be combined with single cell transcriptomics, epigenetics, and histology to build the first comprehensive cell atlas of the human breast tissue.
Once again, we finished off the day with a 10x-pert panel discussion, which covered the full spectrum of our single cell solutions. We were excited about the number of attendees who wanted to know more about the recently launched single cell CNV solution and the upcoming single cell with Feature Barcoding solution.
We had a great time in Houston, and we want to thank everyone who made it! If you haven't been able to come out for any of our UGMs yet, there are a couple more chances coming up this month. We'll be in New York this Friday (May 18th) and Boston on May 22nd, and we'd love to see you there! Visit our UGM information page to see the full list of our 2018 User Group Meetings and to register for a meeting near you. (Registration is Free!)
Additional Resources
Learn more about our gene expression and genomics solutions for:

de novo Assembly

Keep up to date on the latest 10x products including the new single cell products for CNV detection, ATAC-seq, and feature barcoding on our 10x Genomics website.