Blog
Jan 24, 2023 / Neuroscience / Immunology
Why I chose spatial: Joining a technology family
In Part 1 of the "Why choose spatial" series, we shared insights from our tissue and spatial biology experts regarding key considerations before choosing a solution. In Part 2 and 3, researchers including Dr. Chengling Miao, a neuroscientist, and Dr. Choi Hongyoon, a cancer researcher, shared why they adopted spatial tools into their workflows and how spatial analysis advanced their research. Here, we share the story of another researcher who chose spatial: neuroscientist Dr. Surjyadipta (Bibo) Bhattacharjee.
A lifetime learner, technology trailblazer amongst his peers, the first to volunteer for a tough project, and the last to leave the lab, Dr. Surjyadipta (Bibo) Bhattacharjee, instructor and postdoc within the Neuroscience Center of Excellence, LSU Health New Orleans, is also a 10x-er at heart. 
"I feel like I'm already a 10x-er because I have connected with so many, and I've made so many great friends," he said.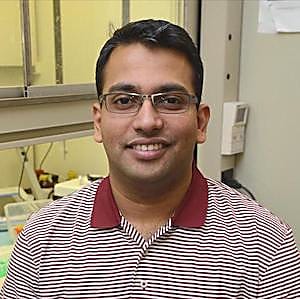 The "unreal" advancements presented by the Human Genome Project during his graduating year of high school, 2001, and his humble search for technical instruction were the initial fuel for Dr. Bhattacharjee's research journey—one that took him from a passion for anything with a "hardcore biological orientation" during his undergrad years, including botany, zoology, chemistry, and physics, to a Masters in biology and biochemistry at the University of Calcutta, and finally to his PhD in neuroscience at LSU School of Medicine. 
Now, as a postdoc in the lab of Nicolas Bazan, MD, PhD, Director of the Neuroscience Center of Excellence at LSU, Dr. Bhattacharjee is continuing his training as the de facto point person for 10x Genomics assays. His expertise with Chromium Single Cell assays is a product of plain hard work—and his love for making libraries—and a number of 10x helpers along the way. And he isn't finished. He's recently expanded his repertoire to spatial, bringing on Visium CytAssist to aid his lab's experiments. 
We recently spoke with Dr. Bhattacharjee about his multidisciplinary research, spanning analgesic drug screening efforts to work with lipid mediators—a class of drugs with potential neuroprotective and neurorestorative effects across a host of disorders affecting the central nervous system, including Alzheimer's disease, stroke, and eye degenerative disease. Keep reading to learn why he chose spatial, and, more than that, why he chose 10x Genomics as a trusted technology provider and scientific collaborator to help him tackle these challenging areas of neuropathology. 
Following threads: Single cell and spatial unravel pathology and drug effects
Why did Dr. Bhattacharjee choose spatial? It's a winding story that starts with a (very) long-chain polyunsaturated fatty acid, another 10x Genomics technology, and, unexpectedly, COVID-19.  
Building on his lab's work to discover and characterize elovanoids—a novel class of omega-3 fatty acid–derived lipid mediators that enhance expression of pro-survival proteins in retinal pigment epithelial cells in response to injury or adversity (1, 2)—Bhattacharjee became interested in seeing how these mediators might counteract the effects of SARS-CoV-2. 
"We were seeing they were very anti-inflammatory, neuroprotective, and restorative homeostatic mediators, in so many counts. Would they have any impact on the virus?" said Dr. Bhattacharjee. "At that time, I was culturing primary human epithelial cells and lung cells. And then we stressed them with the SARS-CoV-2 spike protein. And lo and behold, when we treated them with our lipid mediators, it definitely abrogated the entry of the virus and protected the cells big time" (3).
Collaborations with Dr. Eric Lazartigues's research group at LSU, which specializes in ACE2 receptors, led Bhattacharjee to use an ACE2 humanized knock-in mouse model, challenged with the virus, to further test the protective power of their lipid mediators. 
"We were seeing great protection. So, with that space, we were like, 'Ok, let's go into single cell.'…We were also interested in knowing what is happening in the lung. So that was when we got some kits and started Visium," Dr. Bhattacharjee said. 
This multi-pronged approach to study both the cellular and spatial dynamics of disease and drug effects became a common thread among Bhattacharjee's projects.  
Another drug screening study running in parallel—this time looking to decipher a central mechanism of action for novel acetaminophen homolog compounds—led Bhattacharjee to use Single Cell Multiome ATAC + Gene Expression. "We did get great libraries and that project is now coming to fulfillment—it's being fast-tracked and is already in phase I clinical trials." 
Using a rat model of neuropathic pain, Bhattacharjee and his team are now interested in adding the spatial dimension onto their single cell insights: "We are very interested in going into the rat dorsal root ganglion, the spinal cord. So for that, we'll need the spatial component." 
They've yet to exhaust the therapeutic potential of their lipid mediators either. Dr. Bazan and Dr. Bhattacharjee are now looking to apply them to an Alzheimer's humanized knock-in mouse model. He and his team have performed single cell experiments to define the changes in cortical and hippocampal gene expression associated with cognitive deficits, and noted that their lipid mediators, through internal delivery alone, seemed to push back the age-related onset of cognitive impairment by a number of months. Now, they want to use spatial to analyze regions of the mouse brain, including the hippocampus.
Stroke is his team's next target for their lipid mediators. "Spatial is needed because we want to compare ipsilateral to contralateral stroke sites and see the differences—the changes in microglia, changes in astrocytes due to stroke and the protection of the lipid mediators," he said.   
From the initial SARS-CoV-2 study to these most recent projects, Dr. Bhattacharjee's research knits together a story of the complex interplay between cells and tissue, and emphasizes the importance of layering insights from multiple technologies to capture a comprehensive picture of the underlying biology of disease and treatment effects.   
Trusted technology—and people—in a pinch 
Despite our best planning, research isn't alway a linear process. New priorities or challenges cause twists and turns in the research journey that sometimes can't be avoided. Dr. Bhattacharjee is all too aware of this, and in the midst of tight grant deadlines or experimental setbacks, he's turned to trusted technology and people for help. 
Explaining a particularly challenging season of research, up against a tight deadline for a grant proposal for a project to study corneal nerve injury and the potential treatment benefits of lipid mediators, Dr. Bhattacharjee told us how Visium CytAssist became a powerful tool for his team. Strategizing with Nicky Hales, Sales Executive, and Mahdis Rahmani, Spatial Field Application Scientist at 10x Genomics, Bhattacharjee designed single cell and spatial experiments that could provide the data they needed to support the grant. 
"It was just two weeks before the grant submission in October. We strategized for our corneal samples and limbal samples," said Dr. Bhattacharjee. "We wanted to see differences between a normal cornea and, as a proof of principle, how gene expression changes in a scratched or wounded [cornea] model." 
Because of the tight timeline, Bhattacharjee decided to run FFPE samples on the Visium CytAssist, which would also allow him to have a 10x Genomics Field Application Scientist on site to support the experiment, if needed. (He didn't.)
"So that's how we did the CytAssist and we got great libraries. Within 10 days, I managed to get great single cell libraries as well as the spatial, put all of that into a huge NIH grant for Dr. Haydee Bazan, and we are now following up on those experiments," he said. 
This wasn't Dr. Bhattacharjee's first encounter with 10x Genomics scientists. "When I was first learning Multiome, like a year and a half back, and I got the data [back]…I was having problems setting up the command line on my Linux system for the first time to analyze the data with Cell Ranger ARC," he recalled. "So I reached out. I got Karen Lai [Senior Scientist, Applied Bioinformatics], and she was like, 'Bibo, ok, check your library.' Then I was looking through videos with Hank Tu—he's a great engineer [at 10x]. I reached out to him and he picked up my ticket. And I'm like, 'Hank, it's so nice because I've seen your webinar and that's how I got into Multiome.'" 
With the space to ask questions about his data, Dr. Bhattacharjee was directed to further collaborations with other scientists spearheading advanced analysis techniques, including Dr. Rahul Satija's bioinformatics group at the New York Genome Center and Dr. James Cai's bioinformatics group at Texas A&M University.
Listing a number of familiar names of 10x Genomics employees, including field scientists, product managers, and support specialists, he recounted other stories of reaching out for help with his experiments: "Whenever I really needed something, I've reached out to Ashley, I've reached out to Fatjon, Brandon, I've reached out to Laura, to whoever, and they've all been great friends. So, support has played a great role."
Part of a technology family
There's something about Dr. Bhattacharjee's drive and research journey that captures the spirit of 10x Genomics—who we are. Scientific passion, a hunger to go deeper into complex biology in order to advance human health, hard work matched by a complementary ecosystem of innovative technologies, and people—really smart, compassionate people. 
Perhaps it's this kinship that led Dr. Bhattacharjee to choose not just any spatial technology, but Visium Spatial Gene Expression. Moreover, it's why he's excited to bring on more trusted 10x Genomics technologies that can continue to advance his research, whether that means high-resolution spatial profiling with the Xenium In Situ Analyzer or more sample flexibility with Chromium Single Cell Gene Expression Flex. 
"I know the technology, and I really feel like, with what we have in CytAssist and Xenium, we'll have the resolution and the spatial profiling—a lot is possible, we are going to uncover very strong biology," he said.
Looking to explore some of the resources discussed in this article? Find more information about: 
References: 
Jun B, et al. Elovanoids are novel cell-specific lipid mediators necessary for neuroprotective signaling for photoreceptor cell integrity. Sci Rep 7: 5279 (2017). doi: 10.1038/s41598-017-05433-7
Bhattacharjee S, et al. Elovanoids are a novel class of homeostatic lipid mediators that protect neural cell integrity upon injury. Sci Adv 3: e1700735 (2017). doi:10.1126/sciadv.1700735
Calandria JM, et al. Elovanoids downregulate SARS-CoV-2 cell-entry, canonical mediators and enhance protective signaling in human alveolar cells. Sci Rep 11: 12324 (2021). doi: 10.1038/s41598-021-91794-z