Success starts with the right resolution
Promising treatments for complex diseases are often thwarted by biological heterogeneity that leads to differences in disease manifestations and treatment responses, resulting in varied drug efficacy and toxicity. Single cell assays provide high-resolution multiomic readouts that empower researchers to dissect disease mechanisms and drug activity in greater detail than ever before. Learn how 10x Genomics single cell technologies can increase success and decrease risk by guiding target identification, characterization of mechanisms of action, biomarker discovery for patient stratification, and toxicity evaluation.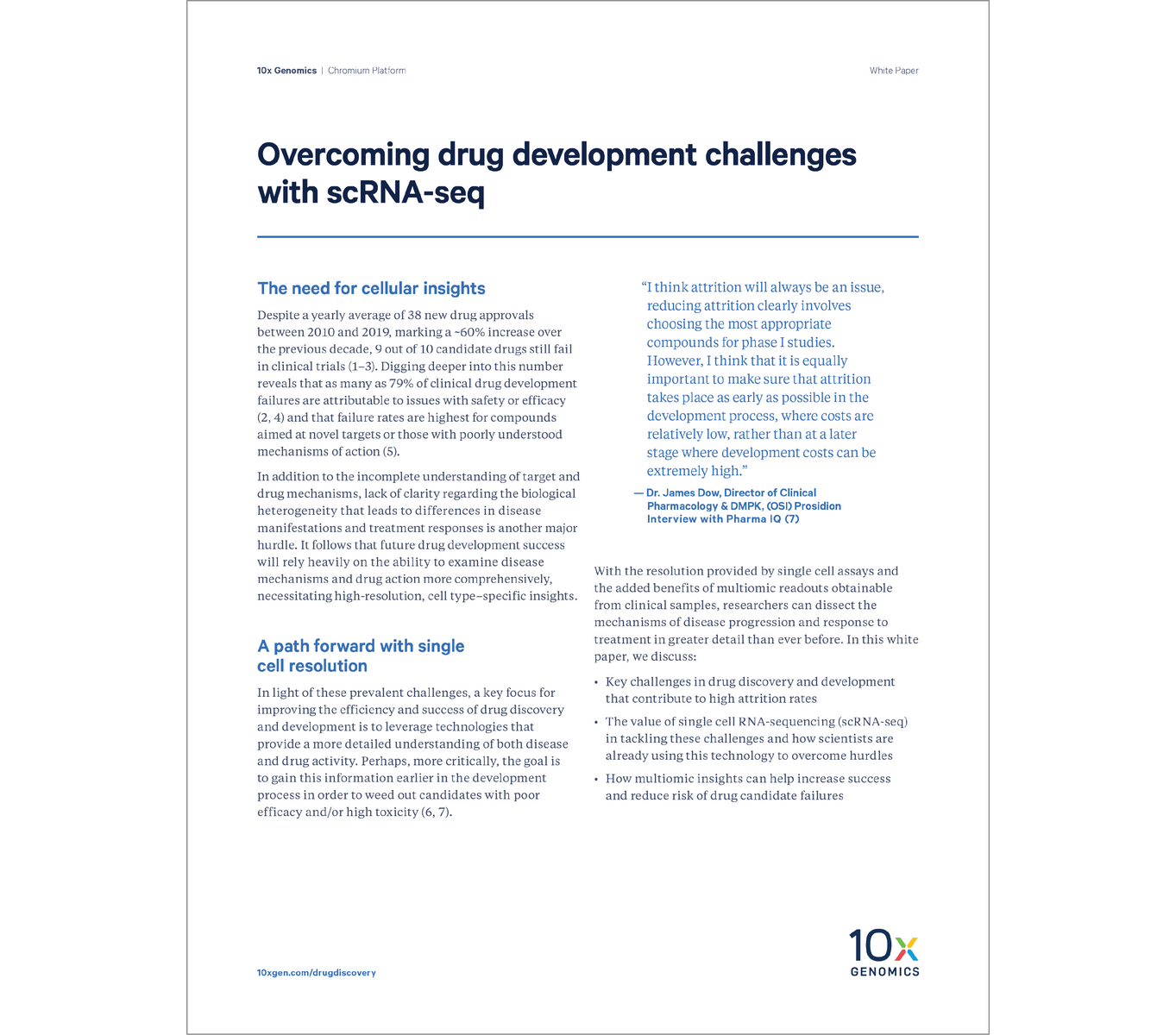 Across therapeutic areas...
Oncology & Immuno-oncology

Elucidate complex and clinically relevant mechanisms that enable immune evasion. Identify molecular mediators of cancer resistance for novel therapeutic targets.

Immunology & Infectious Disease

Characterize immune cell states and infiltration associated with disease or infection. Link host immune response to a pathogen, infection recovery, or infection severity.

Neuroscience

Build a complete picture of the complex biology of neurodegenerative diseases in multiple dimensions. Characterize disease-associated cellular phenotypes and uncover novel pathogenic effects.
Cell & Gene Therapy

Characterize and optimize manufactured cell therapy products. Identify gene signatures to explain dose-limiting toxicities and resistance mechanisms.

Antibody Discovery

Identify potent neutralizing antibodies from infected or convalescent patient samples. Map antigens recognized by specific B-cell receptors, at scale.

Vaccine Development

Examine the molecular mechanisms behind vaccine-elicited cell-mediated immunity. Characterize innate immune response with rich multiomic readouts.
For every stage of the pipeline...
Target Identification

Accelerate hit identification and lead optimization. Identify and sustain a pipeline of novel targets with high-throughput screens at single cell resolution, giving your results more statistical power.

Target Validation

Advance promising targets through development by identifying treatment-responsive subpopulations. Decipher molecular mechanisms of action that govern therapeutic response and resistance.

Translational and Clinical Research

Stratify disease populations more effectively with detailed multiomic readouts that can separate responders from non-responders. Make the most of precious clinical samples with a wealth of data from every cell.
Single cell multi-omics to profile the immune system
Watch this featured webinar to see how single cell sequencing and immune profiling are powerful approaches to improve cancer outcomes in patients.
Integrating single cell genomics into clinical studies
Watch this webinar by AstraZeneca's Translational Medicine Lead Asaf Rotem, PhD, to discover the many applications of single cell technologies to clinical studies—including monitoring drug effects and tracing rare cells in clinical samples. Dr. Rotem also provides expert guidance on study design and sample compatibility.
Expanding opportunities for single cell RNA-sequencing
In this webinar, learn how single cell methods can enable a deeper understanding of cancer, and explore the benefits of expanding sample compatibility for single cell RNA-seq to PFA-fixed tissues. Plus, hear how Azenta, a 10x Genomics certified CRO, provides expertise across the single cell sequencing workflow to pharmaceutical and biotech clients.
Publications
Comprehensive insights to power drug discovery
Single cell and spatial tools from 10x Genomics deliver powerful, multiomic insights from complex disease samples that enable you to confidently fuel your drug discovery pipeline with the most promising candidates. See how these tools are helping fundamentally alter our understanding of disease mechanisms, thus accelerating the discovery and development of novel therapeutics.
View more publications
Platforms for drug discovery
Accelerate your drug development with single cell and spatial solutions from 10x Genomics