Blog
Mar 13, 2018
San Diego User Group Meeting 2018 Recap
Our 10x user group meetings provide regional forums where researchers can gather with colleagues and 10x representatives to share their ideas and discoveries, and to learn about the latest products and tools from 10x Genomics. We kicked off our 2018 UGM season last Wednesday in San Diego with a day of research talks, software demos and a lively 10x-pert panel discussion. This year, in addition to the 10x Genomics user community, we were joined by Miltenyi Biotec, Advanced Analytical, BioLegend and PerkinElmer, who were on hand to talk to customers about their 10x compatible products. (Learn more about 10x compatible products available from these partners).
10xer Giovanna Prout began the morning session with a presentation focusing on the  growing 10x product portfolio, including three exciting new research solutions that will be launched this year: Single Cell CNV, Single Cell with Feature Barcoding, and Single Cell ATAC-seq. (visit our Product Updates page to learn more and to watch our AGBT announcement video). Next up was Dr. Veena Shivagouda Patil, a postdoctoral fellow at the La Jolla Allergy and Immunology Institute, who spoke about a recently published  analysis of CD4+ cytotoxic T lymphocytes using the Chromium Immune Profiling solution (Patil et al. Science Immunology, 2018). Dr. Raj Giraddi of the Salk Research Institute finished off the morning session with a presentation about his efforts to characterize stem cell states using single cell gene expression profiling.
After filling up on sandwiches, software demos and plenty of caffeine, we were back in the conference hall for the afternoon session. 10xer Anushka Brownley lead off with a presentation on informatics and data analysis, which highlighted the numerous 10x Genomics software tools as well as some excellent community developed analysis pipelines that are expanding our products into new applications. The next presentation was from our friends at BioLegend (Bertrand Yeung and Kit Nazor) who enticed the audience with a presentation on CITE-seq, a technology that combines oligo-barcoded antibodies with 3' transcriptional profiling to simultaneously measure protein and RNA expression at the single-cell level. (visit biolegend.com/totalseq to learn more and see a list of oligo-conjugated antibodies that will be available soon.) Giving the last  presentation of the day was UCSD postdoctoral fellow, Dr. Matteo D'Antonio, who is using single cell RNA-Seq to perform expression QTL analysis in iPSC derived cardiomyocytes. Coupling RNA-seq with whole genome analysis, he has so far identified 2,187 genes with expression levels that correlate with genetic variation.
In the final session of the day, attendees had the chance to ask questions and discuss projects with our 10xpert-panel of scientists and product managers (pictured below). It was a lively session with a lot of discussion about the new products coming this year as well as suggestions for future single cell solutions, such as primers for profiling non-coding RNAs. We ended the day with time to network and relax over wine, beer and tasty nosh at the community mixer.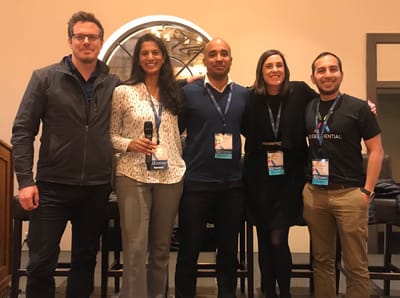 Many thanks to all of our southern California customers who joined us in San Diego, especially to those of you who braved the LA traffic to get there. Your presence made the day a great success and we hope to see you again soon!
The next UGM will be held this Wednesday (March 14th) in South San Francisco (view the agenda and register here), and the 2018 season continues through September with meetings throughout North America and Europe. Take a look at the full schedule and register for a meeting in a city near you.
Additional Resources
Keep up to date on the latest 10x products including the new single cell products for CNV detection, ATAC-seq and feature barcoding on our Product Updates page.