Perform single-section proteogenomics

Get deeper insights into human FFPE tissue with simultaneous protein, whole transcriptome, and morphology data from a single section.

Get started with our validated antibody panel

Obtain greater insights with a predesigned, 35-plex human immune cell profiling antibody panel.

Retain morphological context

Compatible with hematoxylin and eosin (H&E) and immunofluorescence (IF) stains.

Profile entire tissue sections

Visualize protein and whole transcriptome expression profiles across an entire human FFPE tissue section.

See in high resolution

Capture a clearer picture of your tissue with an average resolution of 1–10 cells per spot depending on tissue type.

Streamline data analysis

Combine gene and protein expression data with a histological image with our easy-to-use software.
What you can do
Map the spatial organization of cell atlases
Add more dimensions to cell atlases by combining whole transcriptome, high-plex protein, and morphological analyses on the same tissue section
Obtain in-depth characterization of immune cells
Pair immune cell marker proteins with gene expression to deeply understand the location and heterogeneity of immune cells within the tumor microenvironment
Use protein to select key regions of interest
Guide your whole transcriptome analysis by honing in on biologically significant tissue regions with over 30 immune cell protein targets
Proven results
Videos
Watch how customers are using Spatial Gene Expression.
Resources
Find the latest app notes and other documentation Spatial Gene Expression.
Our end-to-end solution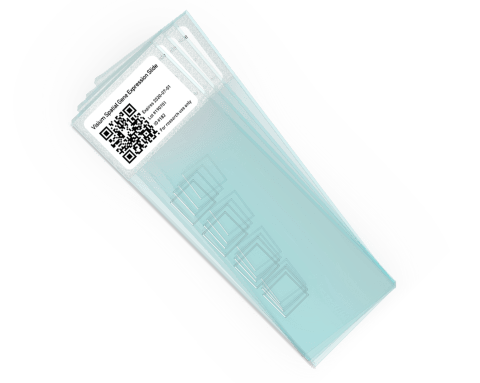 Visium Spatial Slides for FFPE v2
Easily adoptable within existing lab infrastructure, no need for a new instrument.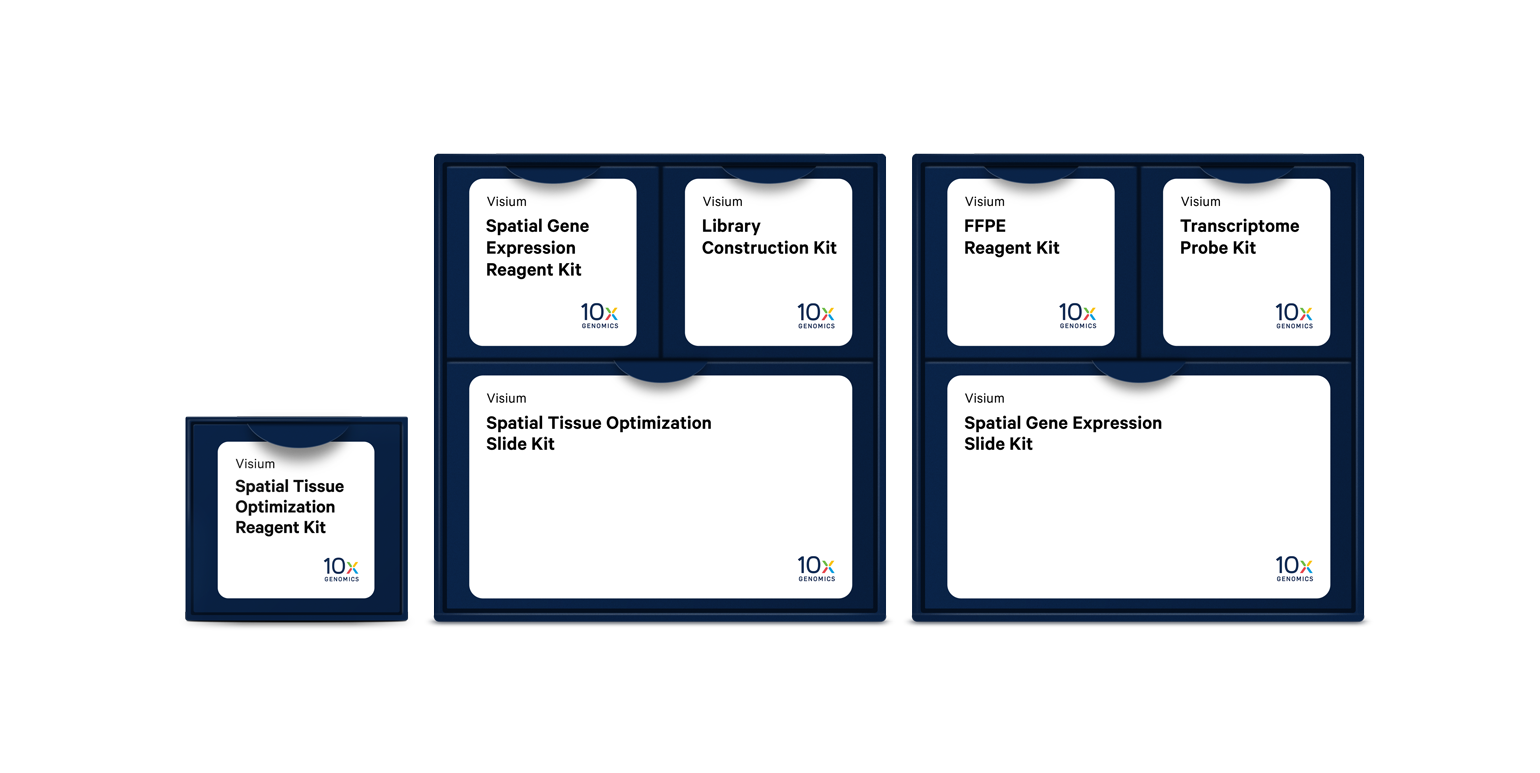 Visium Spatial Gene and Protein Expression reagents
Our reagent kits let you capture whole-transcriptome gene and multiplexed protein expression with spatial resolution across an entire tissue section.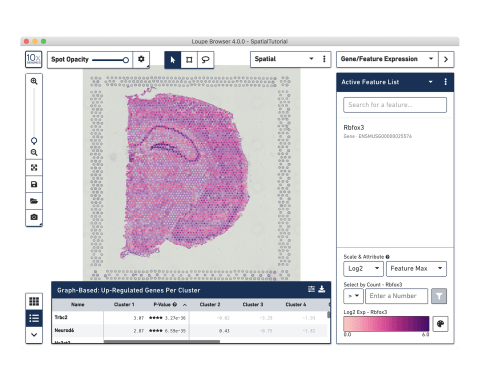 Analysis and visualization software
Our visualization software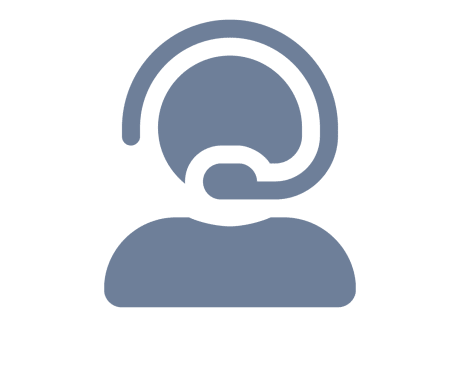 World-class technical and customer support
Get the help you need with our expert support team, reachable by phone or e-mail.
Workflow
1

Prepare your sample

Embed, section, and place human FFPE tissue onto a Capture Area of the gene expression slide. Each Capture Area has thousands of barcoded spots containing millions of capture oligonucleotides with spatial barcodes unique to that spot.

FFPE How-to Videos - coming soon

FFPE Tissues Tested - coming soon

2

Stain and image the tissue

Use standard fixation and staining techniques, including H&E staining to visualize tissue sections with a brightfield imaging system, or IF staining to visualize up to three key protein markers in tissue sections with a fluorescent imaging system.

FFPE Staining and Imaging Protocol - coming soon

FFPE User Guide - coming soon

3

Permeabilize tissue and construct library

The FFPE tissue is permeabilized to release ligated probe pairs and antibody tags from the cells, which bind to the spatially barcoded oligonucleotides present on the spots. Spatial barcodes are added via an extension reaction. The barcoded molecules are then pooled for downstream processing to generate a sequencing-ready library.

FFPE User Guide - coming soon

4

Sequence

The resulting 10x Barcoded libraries are compatible with standard NGS short-read sequencing on Illumina sequencers for transcriptional and protein profiling of entire tissue sections.

FFPE Sequencing Requirements - coming soon

5

Analyze and visualize your data

Use our Space Ranger analysis software to process your Spatial Gene and Protein Expression data, and interactively explore the results with our Loupe Browser visualization software.

Do I need to be a bioinformatician to use Loupe?

Loupe is a point-and-click software that's easy for anyone to download and use.

Downloadable Datasets - coming soon
Frequently asked questions
The Visium Spatial Gene and Protein Expression workflow is compatible with H&E and IF from the same tissue section. For IF we support up to four protein markers and recommend that DAPI be used for one of the channels. Please review our imaging guidelines for additional information.
Imaging Guidelines - coming soon
Staining Demonstrated Protocols - coming soon
The human immune panel includes antibodies that detect cell surface (extracellular) and intracellular protein targets. The full list of antibodies in the panel can be found here.
No, the addition of protein does not affect the sensitivity of gene expression in the Visium Gene and Protein Expression assay.
The Visium Gene and Protein Expression assay is compatible with human FFPE tissues. A list of tissues successfully tested in-house with the Visium assay can be found below.
Successfully tested tissues: Coming soon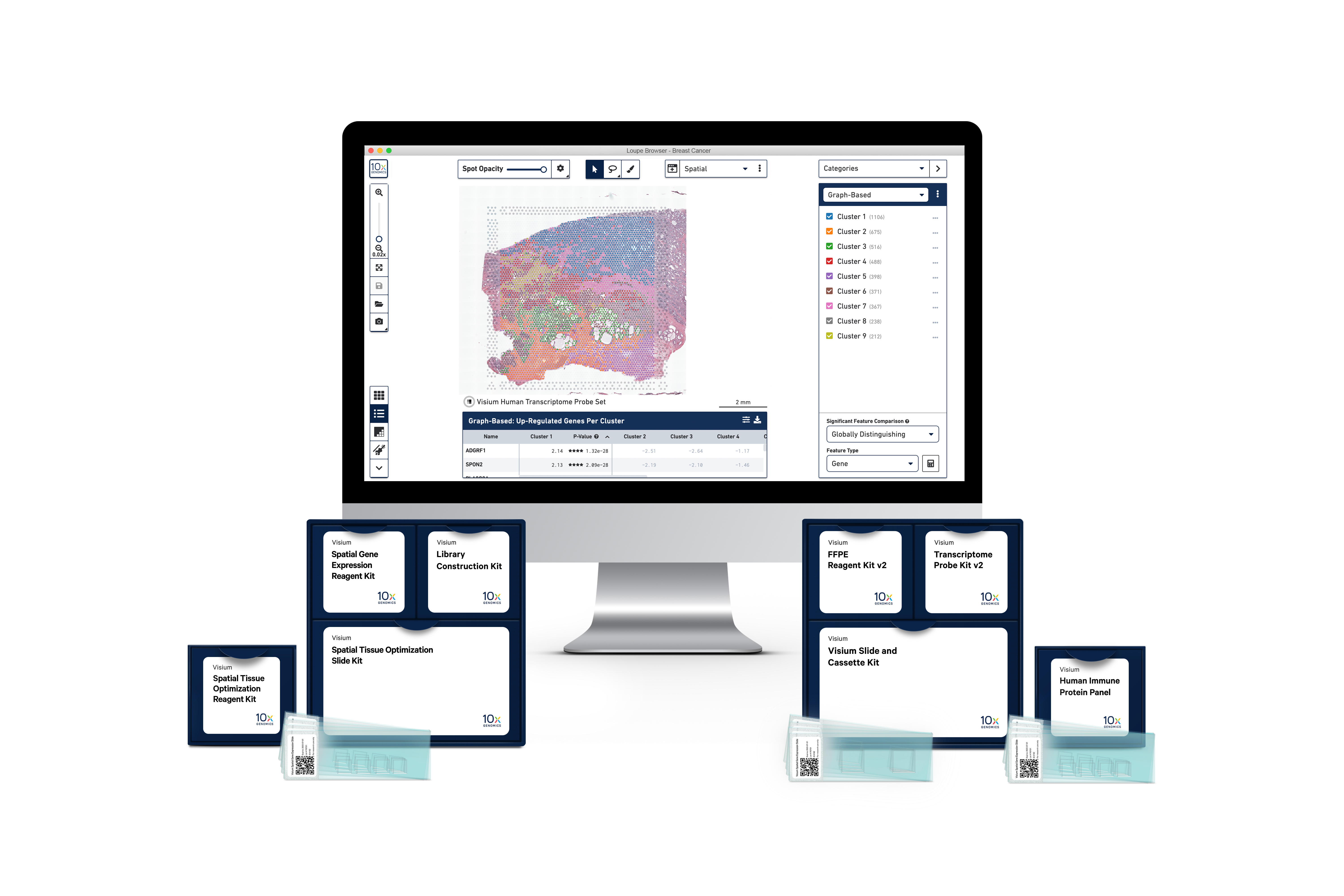 Get started