After June 30, 2023, new Cell Ranger and Space Ranger releases will no longer support targeted gene expression analysis.
More for less

Cut sequencing costs by as much as 90%, or scale up to a 10-fold increase in sample throughput compared to whole transcriptome analysis.

Increase flexibility

Work with pre-designed panels, add genes or sequences on top, or design your own panel from scratch.

Stay on target

Don't miss any important genes. Maximize on-target reads and minimize data volume.

Seamless integration

Easily integrate with Feature Barcode technology and any existing gene expression libraries.

Built to scale

Easily scale sample throughput by multiplexing libraries during target enrichment.

Streamlined data analysis

Explore and interpret targeted gene expression profiles with easy-to-use software.
Accelerate translational research
Move faster and inform translational studies with actionable data by focusing on clinically relevant gene expression.
Scale cellular screening
Enable genetic screens at massive scale for CAR-T cell characterization or CRISPR gene editing.
Refine discoveries
Detect and localize rare or unique cellular populations to gain deeper insights into normal development and disease pathology.
Validate biomarkers and drug targets
Use whole transcriptome analysis for discovery, then seamlessly enrich the same libraries for the most relevant genes.
Panel Options
Pre-designed Panels
Hone in on gene expression relevant to your research area. Each panel consists of validated probes for over 1,000 genes.
Add on to Pre-designed Panels
Customize pre-designed panels by adding up to 200 additional genes and up to 10 exogenous sequences with the 10x Genomics Custom Panel Designer.
How the Custom Panel Designer Works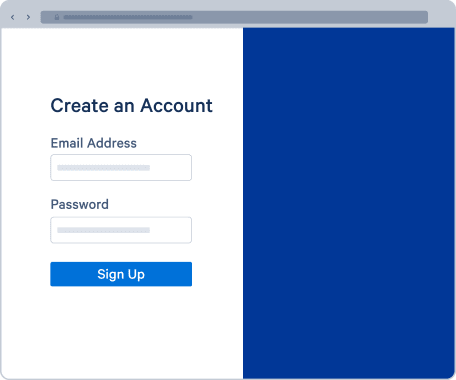 Create an account
Design custom panels and save them to your account.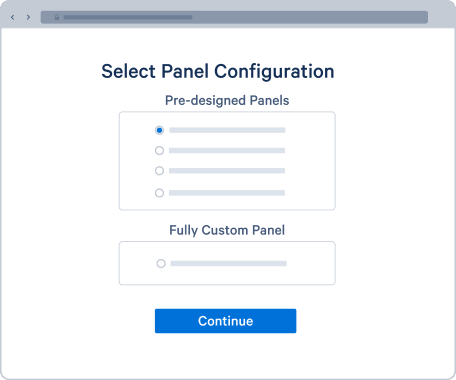 Select your panel type
Start with one of our pre-designed panels and add custom genes or design a fully custom panel.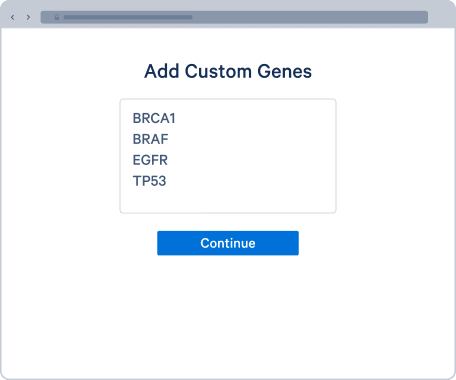 Input custom gene list
Add up to 200 genes and 10 exogenous sequences to pre-designed panels or create a fully custom panel of 10–1,500 genes.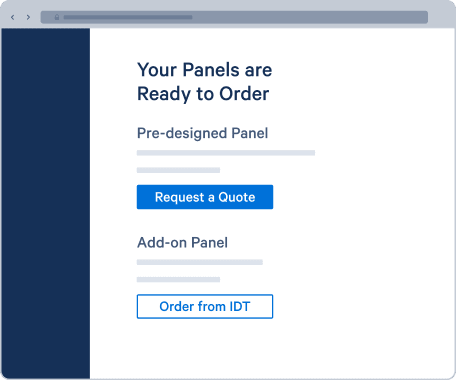 Review and download design files
Once you're happy with your design, request a quote for 10x Genomics reagents and order your custom panel from our compatible partner.
Scalable studies with sample multiplexing
Increase your understanding of biological complexity by implementing single cell studies at scale with an end-to-end sample multiplexing solution.
Single Cell Gene Expression with CellPlex
Utilize species-agnostic, lipid-based tagging compatible with cells or nuclei to multiplex up 12 samples.
Unlock more insights
Enable greater cell and sample throughput with multiplexing, reducing sample costs and scaling to larger single cell experiments.
Broad sample compatibility
Multiplex samples with a single set of reagents compatible across samples, including patient samples, cell lines, and whole cells or nuclei.
End-to-end solution
Leverage fully supported protocols and integrated data analysis pipelines with demultiplexing capabilities to efficiently enable large-scale single cell experiments.
Customization options
View what custom panel options are available for different products and references below.
Workflow
1

Select Your Panel

Decide what genes you want to focus on. Use one of our comprehensive, pre-designed panels with or without added genes, or design from scratch with the 10x Genomics Custom Panel Designer. The use of fully custom panels with Spatial Gene Expression is not supported at this time.

2

Enrich Your 10x Library

Start with an existing 10x Genomics single cell library or sequencing-ready Visium Gene Expression library from a tissue section. Perform hybrid capture with the selected gene panel to enrich for transcripts of interest.

3

Sequence

The resulting 10x Barcoded, target-enriched library is compatible with standard NGS short-read sequencing on Illumina sequencers for efficient transcriptional profiling of individual cells or tissue sections.

4

Analyze Your Data

Convert the raw sequencing data to biologically meaningful insights with targeted analysis pipelines in Cell Ranger or Space Ranger.

Analysis pipelines output

Output includes QC information and files that can be easily used for further analysis in our Loupe visualization software, or third-party R or Python tools.

5

Visualize Your Data

Use Loupe Browser visualization software to interactively explore your single cell or spatial results. Perform differential gene expression analysis between clusters and samples to identify cell types, distinguishing genes, and more.

Do I need to be a bioinformatician to use it?

Loupe is a point-and-click software that's easy for anyone to download and use.
Frequently Asked Questions
When used in conjunction with 10x Genomics Single Cell Gene Expression workflows, it provides you with expression profiles of a set of targeted genes, from hundreds to thousands of single cells in suspension. When paired with Visium Spatial Gene Expression workflows, it provides you with histological and spatially resolved targeted gene expression profiles from an intact tissue section.
In general, a targeted approach can greatly increase the efficiency and decrease the cost of gene expression studies. Since you are focusing sequencing on a subset of relevant genes, you can reduce sequencing costs by up to 90% while maintaining the same sequencing depth.
Targeted gene expression for single cells is compatible with fresh and cryopreserved single cell suspensions. Pre-designed panels currently target human genes, but custom mouse panels can be designed. For Visium workflows, the assay is compatible with fresh frozen tissues containing mRNA. A list of tissues successfully tested in-house can be found here.
List of tissues successfully tested in-house
Add up to 200 genes to any pre-designed panel for single cell or spatial targeted gene expression with the Custom Panel Designer. For targeted single cell gene expression design fully custom panels from 10 to 1,500 genes.
For Chromium experiments, Cell Ranger is an analysis software that automatically generates expression profiles for each cell and identifies clusters of cells with similar expression profiles. You can then use Loupe Browser, a visualization software, to interactively explore the results. You can download Cell Ranger and Loupe Browser from the 10x Genomics support site at no cost.
For Visium experiments, Space Ranger is an analysis software that automatically generates expression profiles for each spot and identifies clusters of spots with similar expression profiles. You can then use Loupe Browser, a visualization software, to interactively explore results. You can download Space Ranger and Loupe Browser from the 10x Genomics support site at no cost.
Download software at 10x Support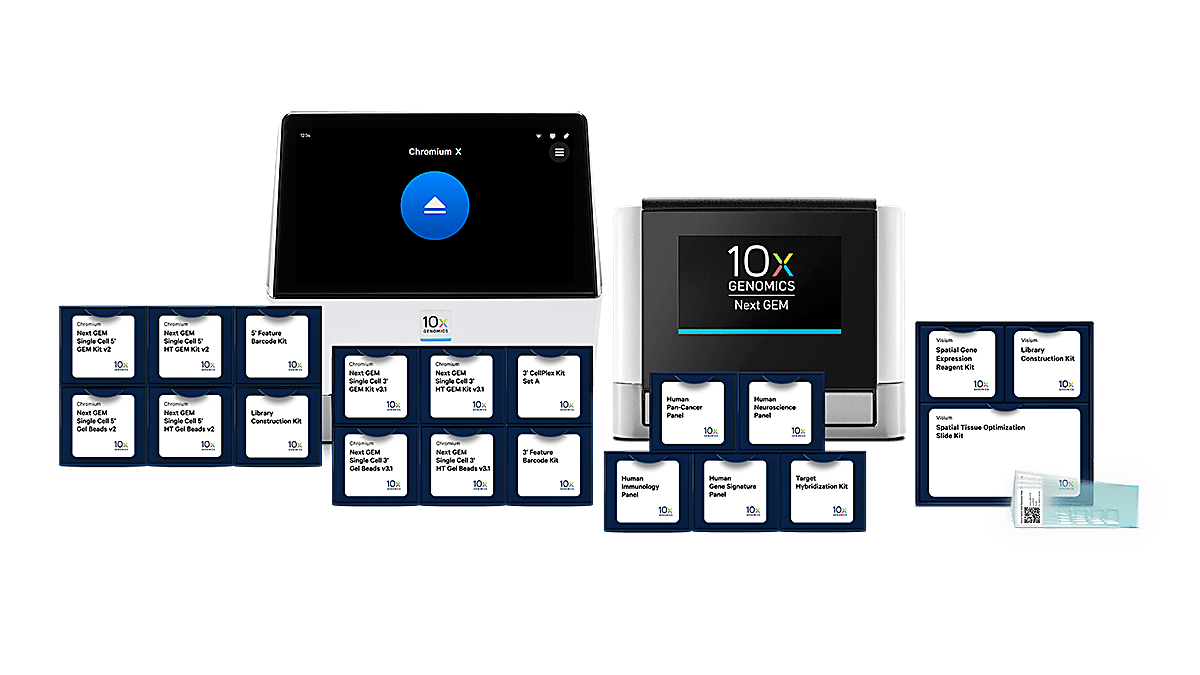 Get Started